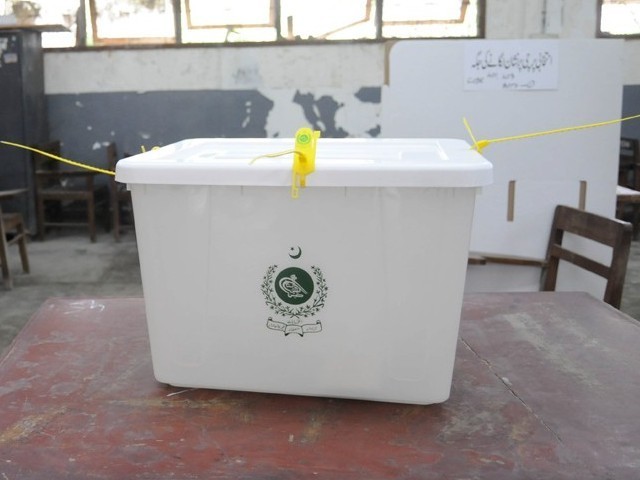 ---
RAWALPINDI:
The Pakistan Tehreek-i-Insaf (PTI) and Pakistan Muslim League-Nawaz (PML-N) won a seat each after a full day's battle for two seats in the Azad Jammu and Kashmir (AJK) elections held in Rawalpindi on Sunday.
Javed Butt of PTI and advocate Hafiz Ahmad Raza Qadri of PML-N won LA-43 and LA-44, respectively. Butt's victory was celebrated in front of Lal Haveli in the presence of Interior Minister Sheikh Rashid Ahmed and other leaders while Mayor Sardar Naseem Khan and other PML-N leaders celebrated the victory of Qadri outside of his election office on Murree Road with the workers
Elections commenced at 8 am and ended peacefully at 5 pm in the garrison city, a spokesperson informed while commenting that no major untoward incident during the polling process was reported in the city.
Read PPP, PML-N agree to field joint candidate for AJK PM slot
The counting of votes was in progress and complete results would be announced by presiding officers after completion of the counting process. According to polling officials, the voters present inside the polling stations were allowed to cast ballots even after the end of polling time.
The election commission authorities set up 97 polling stations in Rawalpindi for the election while 1,500 policemen were deployed to ensure law and order and enforce the code of conduct issued by the Election Commission.
City Police Officer Rawalpindi Ahsan Younas directed the police to implement the Election Code of Conduct.
Published in The Express Tribune, July 26th, 2021.
COMMENTS
Comments are moderated and generally will be posted if they are on-topic and not abusive.
For more information, please see our Comments FAQ