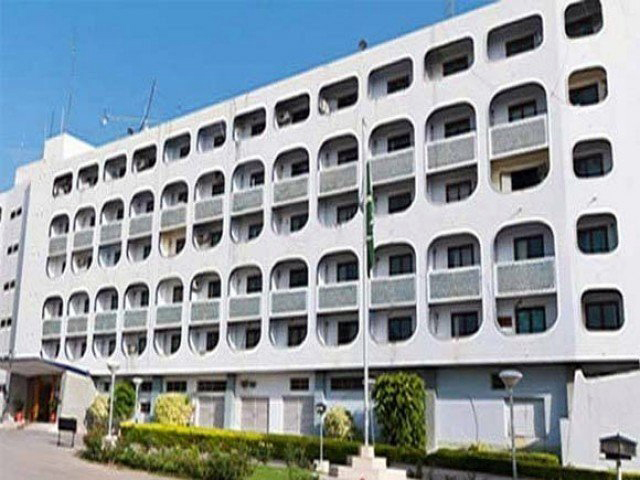 ---
ISLAMABAD:
Pakistan has categorically rejected "baseless and irresponsible" remarks made by Indian state minister for external affairs in the Indian Parliament regarding the Jammu and Kashmir dispute, situation in Afghanistan and the China Pakistan Economic Corridor (CPEC).
"Regurgitation of false and fabricated claims by India can neither change the facts nor divert attention from India's illegal occupation and human rights violations in the Indian Illegally Occupied Jammu and Kashmir (IIOJK)," Foreign Office spokesperson Zahid Hafeez Chaudhri said on Saturday.
Chaudhri, who was responding to the media queries, said Jammu and Kashmir is an internationally recognized dispute, pending resolution in accordance with the United Nations Security Council (UNSC) resolutions and the wishes of the people of Kashmir.
The Foreign Office spokesperson said India has no locus standi whatsoever on CPEC, which is a flagship project under the Belt and Road Initiative (BRI).
Read Gen Qamar discusses CPEC, regional situation with Chinese envoy
"It promises socio-economic uplift and regional connectivity. No amount of Indian machinations or propaganda can undermine the significance of CPEC for peace, development and prosperity of the region," he added.
As for Afghanistan, the spokesperson said "rather than expressing fake concern for the country, India would be well-advised to stop peddling the delusional 'contiguous neighbuor' fiction; to remind itself that its role as a 'spoiler' in Afghanistan is well-established; and to focus on course correction."
To a question on the situation in Afghanistan, India Minister of State for External Affairs V Muraleedharan on Friday said in Rajya Sabha – Indian parliament's upper house – that New Delhi "continues to closely monitor the developments in that country".
"The government continues to closely monitor the developments in Afghanistan, including the evolving security situation and takes all necessary measures to safeguard our national interest," he said.
To a separate question, Muraleedharan said India has seen reports regarding the extension of CPEC.
"India's position on CPEC has been clear and consistent. It passes through parts of the Union Territories of Jammu and Kashmir and Ladakh which are under the 'occupation' of Pakistan and hence impinges on the issue of sovereignty and territorial integrity of India," he said.
COMMENTS
Comments are moderated and generally will be posted if they are on-topic and not abusive.
For more information, please see our Comments FAQ