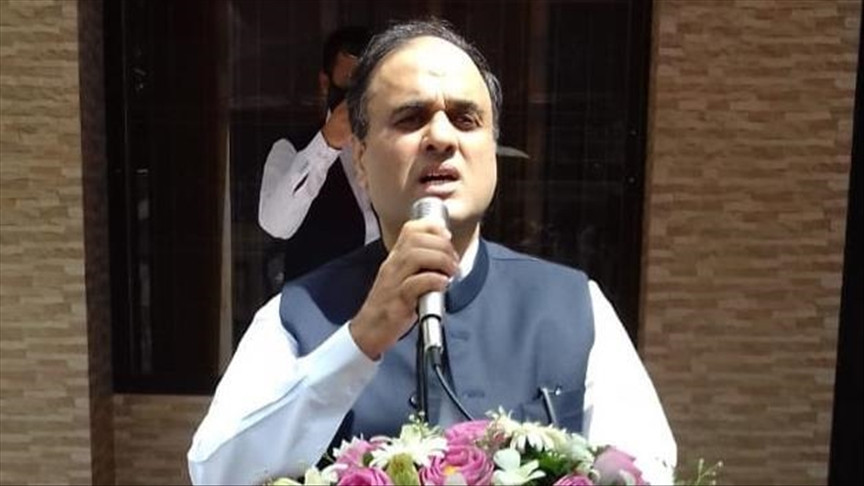 ---
DHAKA:
The leaders of Bangladesh and Pakistan are committed to boosting ties, including through high-level visits.
In an exclusive interview with Anadolu Agency, Pakistani High Commissioner in Bangladesh, Imran Ahmed Siddiqui, said leaders of both countries have already invited each other and both sides need to work on materializing exchanges early.
Since his official inception in Bangladesh in February last year, Siddiqui has already met Bangladesh's President Abdul Hamid, Prime Minister Sheikh Hasina, Foreign Minister A. K. Abdul Momen and other Cabinet ministers and dignitaries, including business leaders.
Amid the coronavirus pandemic, officials and top businessmen from both countries also held several international webinars on trade and political relations.
In one, "Pakistan – Bangladesh Economic Relations: Future of Cooperation," on July 5, business leaders and experts highlighted the prospect of mutual benefits in agriculture, readymade garment and other sectors.
Siddiqui said during the interview he has also shared in detail the scope of trade and cooperation between Dhaka and Islamabad.
"There exists tremendous potential for both sides to cooperate in a mutually beneficial manner in the areas of trade and investment, culture, arts and literature, tourism, etcetera," he said.
Referring to his frequent interactions with the trade and business community, academicians, and civil society representatives, he said he noticed "a strong willingness to take bilateral ties of both states forward."
Read More: Pakistan, Bangladesh discuss trade ties
Bilateral visits to warm ties
The two South Asian Muslim states gained independence from British-ruled India in 1947, based on religion, but they went through a bitter experience on different issues and ultimately Bangladesh separated from a united Pakistan in 1971 following a nine-month war.
"Bilateral relations even between the two closest countries are not always friction-free. There may be some problems between Pakistan and Bangladesh, too. But fortunately, the leaderships in both countries are committed to moving ahead and to promoting better relations," said Siddiqui.
Pakistani Prime Minister Imran Khan wrote to Hasina in March about Bangladesh's Golden Jubilee in which he "recalled the far-sighted vision of reconciliation and friendship between the two countries so dearly cherished by the leadership of the two countries."
Referring to the invitation in the letter from Khan to Hasina, Siddiqui said: "We believe a visit by Honorable Prime Minister Hasina to Pakistan would provide an impetus to our bilateral ties."
He added that the response of Hasina to Khan was also very cordial.
"Prime Minister Sheikh Hasina, while accepting the invitation, also invited premier Imran Khan to visit Bangladesh at a mutually convenient time," he said. "Both sides need to work on materializing these exchanges early. On our part, we remain ready to extend any support towards this end."
For bolstering bilateral ties he also emphasized revitalizing stalled consultative mechanisms as well as enhanced people-to-people contacts and added that in 2020 both premiers exchanged views on the evolving COVID-19 situation and shared strategies to address the pandemic.
"Our foreign ministries and foreign secretaries also discussed this and other issues last year on phone," he said.
Both countries are also working on how to activate the long inactive Joint Economic Commission -- a group exploring bilateral cooperation in business and trade -- and are interested in moving together to achieving "all relevant Sustainable Development Goals," including poverty alleviation and ensuring good health, quality education, and gender equality, in a timely fashion.
COMMENTS
Comments are moderated and generally will be posted if they are on-topic and not abusive.
For more information, please see our Comments FAQ