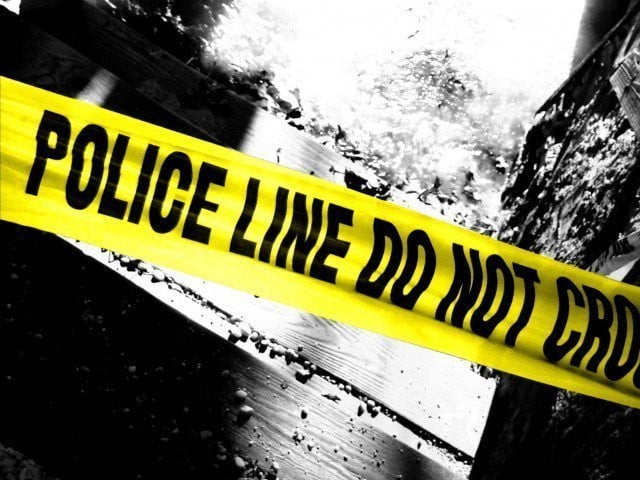 ---
ABBOTTABAD:
In a harrowing incident, a 75-year-old woman and her two grandchildren were stabbed to death within the Donga Gali police limits in Abbottabad on Sunday.
According to the Donga Gali police, Taj Begum, a widow of Younis, and her two grandchildren were stabbed to death with a sharp object in Donga Gali's Sambar village. The suspect, Moheen, was arrested by the police from a nearby forest after the incident took place.
According to the police, the suspect, after killing the elderly woman, entered the room of another woman, Afshan Bibi, who happened to be the daughter-in-law of the slain woman, and attacked her with a dagger. However, the woman escaped from the crime scene in critical condition.
According to the police, the suspect found the woman's two sons — Zeeshan and Azian in the house and stabbed them to death.
The mother of two murdered children was rushed to the Tehsil Headquarters Hospital Murree for initial treatment and later referred to a Rawalpindi hospital. The woman, in her statement, said that the accused, who was her neighbour, entered their house asking for some pots and dishes.
Read Two minor brothers 'abducted, killed'
The accused entered the house to ask for some pots and dishes from my mother-in-law. According to the woman's husband Amir, his wife had wounds on her back.
Galiyat DSP and Donga Gali SHO police station along with other personnel reached the crime scene and further investigation is under way. Galiyat DSP Jamilur Rehman Qureshi said that the accused was arrested and a first information report has been registered against him.
According to Rehman, between Saturday and Sunday night, Moheen knocked on the door of his neighbour Amir Abbas asking for a cooking pot. Rehman said that the 75-year-old widow opened the door, the killer followed her into the kitchen, stabbed her with a knife, killing her on the spot.
SSP Headquarters Malik Ejaz, while giving the details of the incident, said that in the meanwhile, Moheen entered the room of Afshan Bibi and wounded her but she managed to escape from the room despite receiving critical injuries. He further said that during the incident, the murderer also killed five-year-old Azian and three-year-old Zeeshan on their shouting and fled away from the scene.
Malik Ejaz said that after receiving information, the police reached the crime scene and found the three bodies along with the killer's wristwatch. The police team arrested the accused from her house along with recovering the knife used in the murder, he told.
With additional input from APP
Published in The Express Tribune, July 19th, 2021.
COMMENTS
Comments are moderated and generally will be posted if they are on-topic and not abusive.
For more information, please see our Comments FAQ