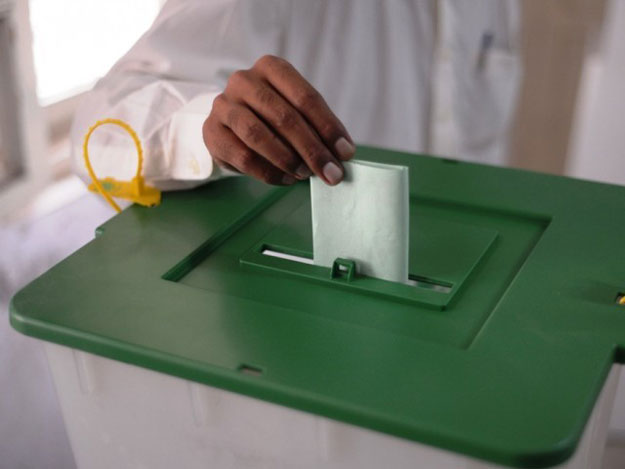 ---
MUZAFFARABAD:
The first phase of elections in 33 constituencies of Azad Jammu & Kashmir (AJK) started on Sunday with more than 27,000 government employees set to exercise their right to vote.
The Election Commission of Pakistan (ECP) has declared the offices of the returning officers (ROs) as the polling stations.
The government officers deputed to fulfill their electoral duties have been directed to cast their vote at the polling stations established by the ROs of their respective constituencies.
Some 5,114 presiding officers, 7,336 polling officers and 14,672 polling assistants will be casting their votes today.
Perched in lofty mountains, the scenic city of Muzaffarabad, capital of Azad Jammu and Kashmir (AJK), is festooned with billboards, banners and pictures of leaders and candidates, according to a report.
The election fever has taken over the region, which is going to elect regional assembly on July 25.
Read Caste, ethnic loyalties decide poll favourites in AJK
Over 3.2 million voters will elect a 53-member assembly for a five-year term. Out of 53 seats, 45 are general, while eight are reserved for women, technocrats and religious scholars.
The city located at the confluence of Neelam and Jhelum rivers looks in a celebration mood, with enthusiastic activists of different political parties roaming around with flags and banners to exhibit their prowess.
There is a festive look at the city's famous Azaadi Chowk (freedom roundabout) - a replica of historic Lal Chowk (Red Square) located 125 kilometres away across the Line of Control (LoC) in Srinagar, the capital of Indian Illegally Occupied Jammu and Kashmir (IIOJK).
Life-size billboards, posters and banners have also overtaken the capital's main Chattar chowk near the parliament building.
Residents in small villages along the 57km Srinagar road along the banks of Jhelum River leads to the heavily militarised LoC – a de facto border that divides the region between nuclear-armed India and Pakistan.
COMMENTS
Comments are moderated and generally will be posted if they are on-topic and not abusive.
For more information, please see our Comments FAQ