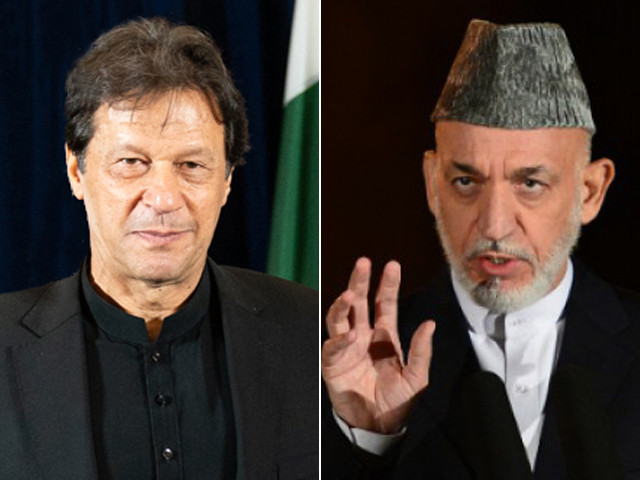 ---
Amid rising violence in Afghanistan as the Taliban rapidly advancing soon after the US forces' pullout, Pakistan on Wednesday said that it would host an exclusive conference on the crisis being faced by the war-torn country, Information and Broadcasting Minister Fawad Chaudhry said.
The development came after Prime Minister Imran Khan held a telephonic conversation with former Afghan president Hamid Karzai.
Taking to Twitter, Fawad said that important members of Afghan leadership including Karzai have been invited to the conference, adding that further details about the event would be unveiled soon.
افغانستان کے استحکام اور سلامتی کیلئے پاکستان کی کوششیں جاری ہیں
وزیراعظم عمران خان نے اب سے کچھ دیر پہلے افغانستان کے سابق صدر حامد کرزئ سے فون پر گفتگو کی، پاکستان افغانستان کے مسئلے پر ایک خصوصی کانفرنس کی میزبانی کر رہا ہے اس کانفرنس کی تفصیلات جلد سامنے لائ جائینگی

— Ch Fawad Hussain (@fawadchaudhry) July 14, 2021
"We hope that this important development will give rise to new hopes for a solution to Afghanistan's problems," the information minister added.
مجوزہ کانفرنس میں حامد کرزئُ سمیت اہم ترین افغان قیادت کو شمولیت کی دعوت دی گئ ہے، ہمیں امید ہے کہ اس اہم ڈویلپمنٹ کے نتیجے میں افغانستان کے مسائل کے حل کی نئ امید جاگے گی،

— Ch Fawad Hussain (@fawadchaudhry) July 14, 2021
As Afghanistan is fast descending into chaos, Pakistan, worried about the fallout of another civil war, is reaching out to key regional players in the hope of reaching a consensus to prevent another disaster in the war-torn country.
Foreign Minister Shah Mahmood Qureshi, earlier in the day, held conversations with Chinese and Russian counterparts over the crisis which has engulfed the neighbouring country.
Read more: Pakistan, Russia discuss efforts for political settlement in Afghanistan
Although Pakistan has worked closely with the United States on the Afghan endgame, it is concerned that the US withdrawal is far from "responsible and orderly" – something that has raised the spectre of a new wave of uncertainty in the region.
Officials told The Express Tribune in the background briefing that Pakistan is now looking for alternative options to prevent a civil war in Afghanistan.
The background interactions with the relevant officials highlighted that Pakistan is not hopeful that the US would play a constructive role in bringing about peace and stability in Afghanistan.
This, according to the officials, is evident from the recent news conference by President Joe Biden, who clearly stated that it was up to the people of Afghanistan to decide their future.
As per Pakistan's assessment, the primary objective of the US now is to ensure its troop withdrawal without any problem. "Seeking peace or political solution is no more a priority of the US," said an official while requesting animosity.
Also read: Pakistan, China hold 'in-depth discussion' on evolving situation in Afghanistan
This situation has put Pakistan in a difficult scenario as the civil war in Afghanistan will have grave implications for the country.
Pakistan is now pinning hopes on other regional players including Afghanistan's immediate neighbours such China, Russia, Iran and Central Asian States for a political settlement.
China, in Pakistan's view, can potentially replace the role of the US by offering incentives to all the parties concerned in Afghanistan in order to encourage them for a peace deal.
Russia and Iran, both of which now maintain contacts with the Afghan Taliban, can also play a major role in preventing unrest in Afghanistan. Pakistan feels that unlike the US it has convergence with Russia.
China and Iran on the issue of Afghanistan.
"Pakistan, Russia, China and Iran are going to suffer the most if there are further security problems in Afghanistan," the official pointed. "Therefore, it is natural that all these countries have an inherent interest in seeking a political settlement," he added.
Both China and Russia have been critical of the US withdrawal plan and publicly criticized the Biden administration for leaving Afghanistan in a mess. The potential security vacuum in Afghanistan could allow groups such as ISIS to pose direct threats to Russia, China, Pakistan and Iran.
As part of efforts to develop regional consensus, Prime Minister Imran Khan is expected to meet the foreign ministers of Russia, China and Iran on the sidelines of an upcoming regional connectivity summit to be hosted by Uzbekistan.
COMMENTS
Comments are moderated and generally will be posted if they are on-topic and not abusive.
For more information, please see our Comments FAQ