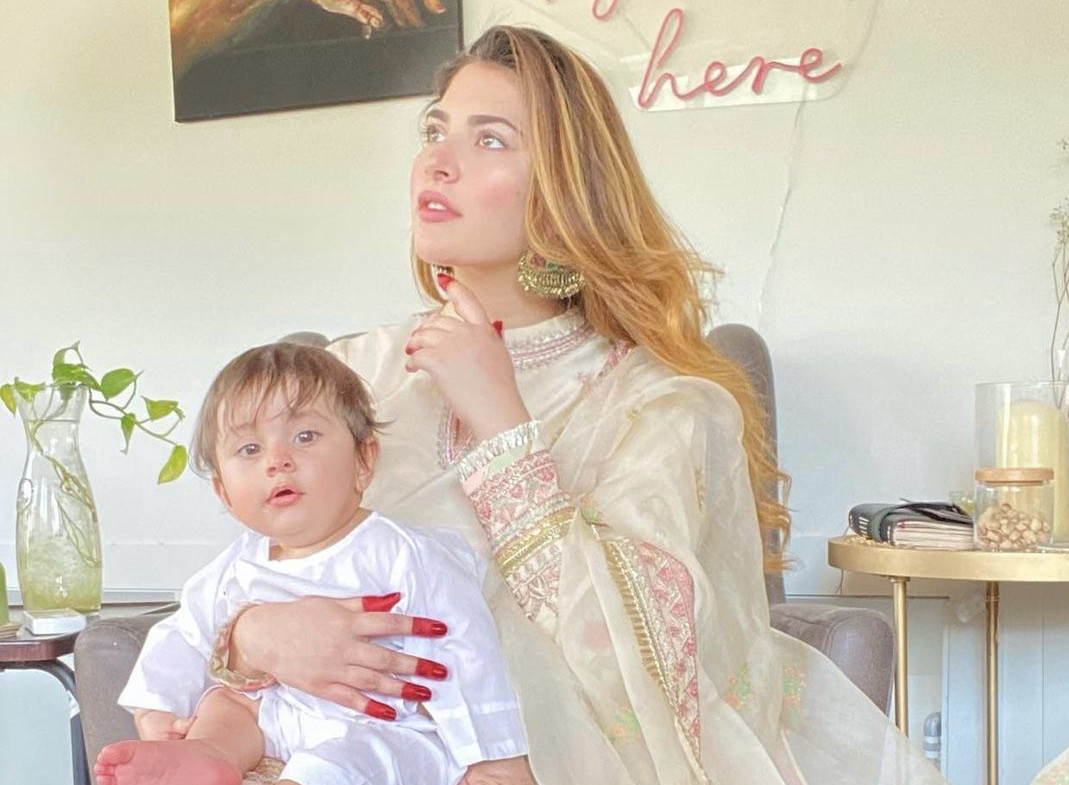 ---
Every now and then, artist and former actor Naimal Khawar Khan has taken to Instagram to share her creations and paintings. The artist even has an exhibition in Islamabad where she was spotted with her then-husband-to-be, Hamza Ali Abbasi. The picture later went viral as the two were captured in a single frame, talking about Naimal's art.
Recently, the former actor took to Instagram and shared some advice with striving artists and how she maintains her work-personal life balance. Answering few questions, Naimal commented on the need for an artist's personal space while working on a piece and how her husband, Hamza, makes sure she has it.
"I think it isn't emphasised enough, but as an artist, you need your space. For me, I need to sit in my zone and it's only then that I can be productive. If there are too many distractions around, I don't feel I can work," she said. "I think that's one thing good about my husband he gives me my space I give him his space."
She added, "He really helps me, he takes care of Mustafa at times and I get some time to sit and work. Try to create your little space sit there for an hour or half an hour and that really helps."
From her Instagram, it is quite evident Naimal is in awe of stallions. From riding a few to painting many, we see horses make a constant appearance on her social media. "This takes me back to my NCA days," she shared. "I had just graduated, I had just started riding. I started spending a lot of time with the horses. Almost every day I would go there and sit. I would observe them, would connect with them. They were very calming and soothing. One of the most stunning creations of the Almighty are horses."
Naimal also spoke about her work being affected after the birth of her baby. However, she shared this was one thing she was prepared for. "It was very natural [for my work to be affected]. I just had a baby, I had to give all my time to him," The Anaa star commented. "I have all the time in the world to do everything I want to do right now, so what's the rush?"
The artist also enlightened fans about her next exhibition. "To be honest, even I don't know the answer to this," Naimal remarked. "But hopefully, very soon. With the baby, it's not easy, so I can't promise anything right now. But God willing, very soon. I am working on something but it gets a bit hectic with a toddler."
Naimal also revealed she does read all the DMs she receives about Mustafa. She added she's very grateful for them. "I keep getting DMs and I'm always reading them. I'd like to thank all the people for their prayers and love. It means a lot, guys. Just remember us in your prayers, stay safe and wear your masks," she concluded.
In 2019, the actor officially announced that she is bidding her acting career farewell to pursue her art. "I will not be pursuing it as a career because I feel that I cannot balance it with my art, which will always remain my first priority and passion," she had penned. "You will not be seeing me on the screen anymore but you will be seeing a lot more of my paintings and hopefully, exhibitions. I would like to thank all the wonderful people I met in this short endeavour. It's been lovely. May you all follow your heart and passions."
Have something to add to the story? Share it in the comments below.
COMMENTS
Comments are moderated and generally will be posted if they are on-topic and not abusive.
For more information, please see our Comments FAQ