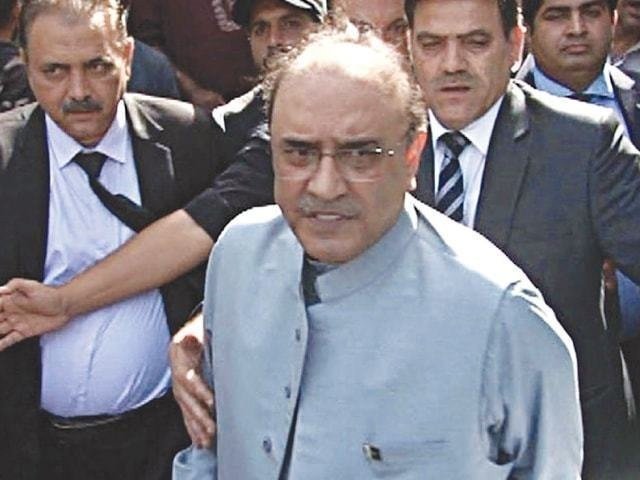 ---
ISLAMABAD:
The Islamabad High Court on Wednesday approved the pre-arrest bail of former president and Co-Chairperson Pakistan Peoples Party (PPP) Asif Ali Zardari in the National Accountability Bureau's (NAB) reference filed against his Manhattan apartment in New York.
According to Express News, a division bench of the IHC, headed by Chief Justice Athar Minallah and comprising Justice Amir Farooq, heard the bail application.
After the hearing, the court granted pre-arrest bail to Zardari and set the bail bond at Rs 500,000. The bail is till July 28.
Read: IHC to hear Zardari's bail plea
In addition, the court issued notices to the NAB chairman, DG NAB Rawalpindi and the investigating officer, directing them to submit a reply.
Earlier, when PPP co-chairman Asif Ali Zardari reached the IHC, media persons asked the former president whether he was moving towards reconciliation or resistance, to which he replied that Bilawal should be asked the question.
He was also asked if he had withdrawn from politics, Zardari said that the 'commander is Bilawal'.
When asked whether he will advise PML-N supremo Mian Nawaz Sharif to appear in court. the PPP co-chairperson replied that he will not give advice to anyone, and if they wish to return, then they are welcome.
Read more: Former president Asif Zardari admitted to Karachi hospital
Before the hearing Zardari's counsel Farooq H Naek, while submitting a request for exemption from attendance due to his client's illness, said that he is ill and undergoing treatment in the hospital.
CJ Minallah said, "How can pre-arrest bail be given in the absence of Zardari? We can't set a wrong example." Justice Amir Farooq said that the presence of the accused was necessary for the pre-arrest bail hearing.
On the other hand, former president Zardari, in his response to the New York flat inquiry prepared by NAB, said that NAB should give one month to submit the reply.
It said that Zardari was asked to answer NAB's questionnaire. NAB sought information regarding the New York apartment. NAB issued a notice to Zardari, saying that he did not disclose the flat in his assets and statements.
COMMENTS
Comments are moderated and generally will be posted if they are on-topic and not abusive.
For more information, please see our Comments FAQ