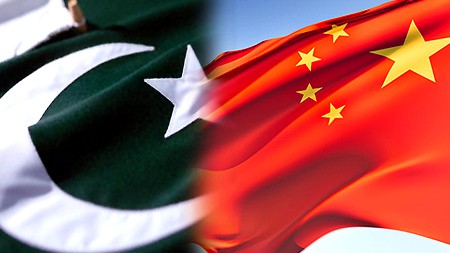 ---
KARACHI:
The cadence and mantra of economic development for modern statehood is now globally acknowledged.
Restrict government's role to formulating a policy and regulatory framework and incentivise and regulate the private sector: full-stop.
Notwithstanding, the Pak-China relationship has been predominantly about the government and related strategic matters. Surprisingly, the most critical piece of the relationship with respect to trade, economy, investments and business cooperation has been a bit "on the back burner".
The "tidal wave" in the bilateral bond between the two nations, the multibillion-dollar China-Pakistan Economic Corridor (CPEC) megaproject, thus far has also been about building infrastructure.
Phase-II of CPEC is being promised to be more inclusive with direct impact on Pakistan's economic and societal priorities by way of industrialisation, job creation and enhancing exports.
This could be a great media slogan, but a real output-based development would be most challenging, especially when we evaluate competencies of Pakistan's public sector.
It is worrisome to note that today there are less than 10 joint venture companies between Pakistani andChinese businesses.
The first round of free trade agreement (FTA) between Pakistan and China resulted in shutdown of mostof Pakistan's industry. It wasn't until 2020 that the FTA was renegotiated toaddress the lopsided nature of bilateral trade with China.
However, many small chores in enablement are not in line. Just two years ago, we had only four direct flights between China and Pakistan, one weekly cargo shipping line, all Letters of Credit (LCs) were in US dollar, business visas for Pakistani businessmen were a nightmare and the list can go on.
The opportunity to meaningfully engage China is immense and present. We need to utilise the sentiment and warmth in the bilateral relationship, triggering Pakistan's economic growth on China-centric business links.
However, China of today is more business-like, driven by commercial and economic jargons and trade dynamics. Hence, we also must talk shop – opportunities, risks and returns, and joint ventures and partnerships.
Access to market
China will be the largest consumer market in the world. As it climbs the ladder of prosperity, it will be consuming trillions of dollars of goods and services.
The Chinese industrial base will move out of low-value goods and shift towards services, hi-tech and luxury. It is a great opportunity for Pakistani companies to develop an understanding of China's domestic trends – now and future.
FTA can help increase Pakistan's exportable products to China. Pakistan should identify 250 new items exportable within the next two years, work out a five-year plan and actively move upwards to value addition and product diversification.
It should develop another 100 items manufactured in Pakistan with Chinese collaboration by relocation of industries and re-export to other international markets.
It needs to regularly engage all chambers and trade bodies in Pakistan and China. Apart from these, all factors in trade link like shipping, cargo, air cargo, customs tariffs, labelling, translations, certifications, quarantine laws, etc must be completely ironed out.
Access to capital
The most fundamental ingredient in stimulating economic activity is access to plentiful and cost-effective business capital.
The State Bank through Pakistani banks can offer a special initiative for industrialization – a 10-year loan (a cap of Rs500 million per party to allow SMEs) at a fixed 4% interest rate per annum to finance industrial machinery.
Low cost risk cover rates of 2% per annum can be provided from Sinosure to Chinese companies for supplier's credit loans (for up to 10 years). Low cost forward cover currency hedge rates of 2% per annum can also be provided between Pakistani rupee and Chinese renminbi.
The two sides should activate Pak-China Investment Company to promote joint ventures in the private sector.
Agriculture
China's scientific advances in agriculture have been noteworthy and we on the contrary remain in the Stone Age.
Pak-China cooperation in agriculture is most essential to Pakistan's national interests and can be most significant in the bilateral economic relationship. The focus of engagement in this sector should be high yields, lower consumption, food security, local suitability, adoption of technology and research and development.
People-to-people cooperation
Ultimately, the cultural and people linkage is the durable bond between any two nations. In this aspect again, we have been emphasising too much on the government and need to encourage a broader milieu.
There is a case for promoting private sector joint ventures. A special mandate should be given to Pak-China Investment Company to invest up to 10% of equity in joint ventures and offer business advisory services to identify 100 projects suitable for such ventures. A target of 50 joint ventures of $500 million per year can be set.
For road shows and delegation visits, Pakistan needs to prepare a business directory introducing its top 500 business houses eager for joint ventures with Chinese firms.
Private sector-led and hosted trade and investment delegations can be formed and road shows conducted on a regular basis. For training and educational exchanges, scholarships in top Chinese universities and vice versa and training courses in science and technology should be provided by the private sector.
In the case of dispute resolution, Pakistan should set up an alternative arbitration forum for all business and commercial disputes and establish an out-of-court settlement mechanism for personal and civil matters.
For information exchanges, Pakistan should set up NGOs like "Understanding China" to bring about exchange between think tanks, business forums and national leaders and media and news exchanges.
In conclusion, the Pak-China relationship is vital to Pakistan's economic and industrial development and needs a 360-degree national focus. This requires sync with the government of Pakistan, however, it is too critical of a matter to be left to bureaucratic norms and verbiages of the government.
The private sector needs to be invigorated to take lead in this transformation - "put the horse before the cart".
Besides our strategic and defence ties, we need to build the Pak-China relationship to become a multibillion-dollar reciprocally balanced trade and investment partnership, cooperation in the cutting-edge technology and R&D and peoples' relationship of trust and respect.
Only then do we ascend the towering Himalaya, which is just a mountain range.
THE WRITER IS THE CHAIRMAN & CEO OF DWP GROUP
COMMENTS
Comments are moderated and generally will be posted if they are on-topic and not abusive.
For more information, please see our Comments FAQ