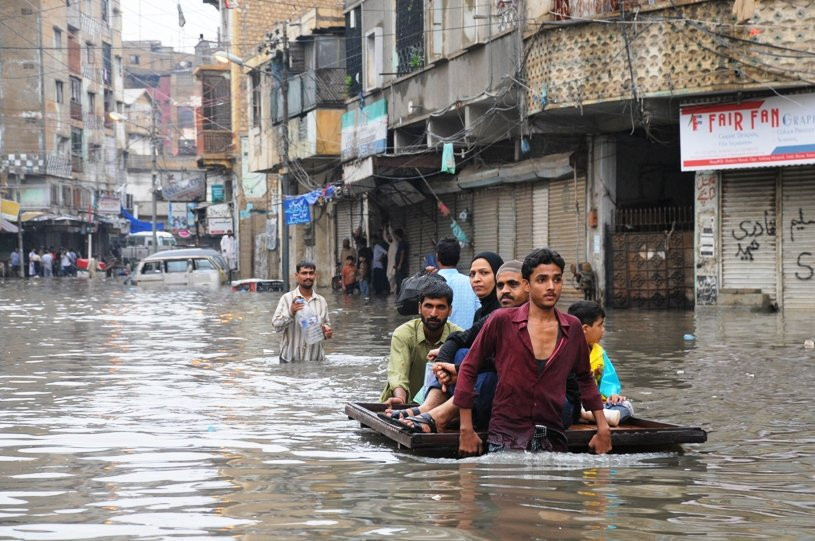 ---
GUJRAT:
At least six people, including two children, were killed and four others injured when billboards fell down and walls collapsed due to an overnight rainstorm in the district and adjoining areas.
Strong winds blowing in the region since the night and heavy rain caused a number of fatal accidents in the area.
A large hoarding fell down near the General Bus Stand, killing 70-year-old Mehendi Khan and 55-year-old Samina Rani of Green Town, Seher Noor, 20, and an identified man from Madina Syedan.
Two girls died when the wall of their house collapsed at Machli Chowk.
Those injured in the accidents caused by the storm were taken to local hospitals by the rescue service.
Power supply poles and trees were uprooted by strong wind. A large number of poles were also damaged in Mandiala, Mirshakaran and Wahndo areas of Gujranwala, due to which power supply to most of the city was disrupted for several hours. The lower parts of the city remained inundated.
According to rescue officials, the accidents were caused by strong winds and rain, resulting in collapse of dilapidated walls and roofs of houses. They said the large hoardings had fallen because theyr were very heavy and not fitted appropriately.
The people standing nearby to avoid the rain were hit by the falling boards.
The district administration has started an investigation against the companies involved in erecting the dangerous hoardings, while the police declared the deaths accidental.
Read Three control rooms set up to cope with floods
Officials of the district administration claimed that legal action would be taken against those responsible after the investigation if any fault was found in the affected boards and poles.
The district authorities had been alerted regarding the rains and had intensified preparations for coping with the monsoon season, which is set to begin on July 15.
The administration has sought a list of large signboards. A survey of dilapidated houses, shops and other buildings has also begun so that repair of those at risk of collapsing due to continuous rains can be arranged immediately.
According to officials, the residents of dilapidated buildings who are unable to get them repaired may be shifted to safe places in view of the circumstances so that their lives can be saved.
Rescue, health and district administration officers are also undergoing training exercises regarding monsoon to prepare them for dealing with any emergency.
Since Nala Palkhu in Wazirabad tehsil of Gujranwala and several areas of Gujrat are near the Chenab river, preparations are being made to avoid damage to buildings and loss of lives due to floods during the season.
The Gujranwala commissioner is reportedly holding meetings with DC Sohail Khawaja, Gujrat Additional DC Imran Shehzad and the deputy commissioners of Sialkot, Narowal, Mandi Bahauddin and Hafizabad districts to work out a strategy to protect the people during the rains.
Punjab Chief Minister Sardar Usman Buzdar expressed deep grief over the loss of lives in the accidents that occurred due to heavy rains in Gujrat. He extended sympathies and condolences to the families of the deceased and ordered the best medical facilities for the injured.
During an earlier spell of rains, four children and their mother were killed when the roof of their house collapsed in Gondlanwala in March. A woman and two children were killed when the wall of a private school on Kashmir Road collapsed while they were preparing for a programme. Similarly, the roof of the headmaster's room in a government school in Arup collapsed, in which a teacher and a student were killed.
Citizens had also protested after four people were injured at Gondalanwala Chowk when a signboard fell down due to strong winds.
Published in The Express Tribune, July 4th, 2021.
COMMENTS
Comments are moderated and generally will be posted if they are on-topic and not abusive.
For more information, please see our Comments FAQ