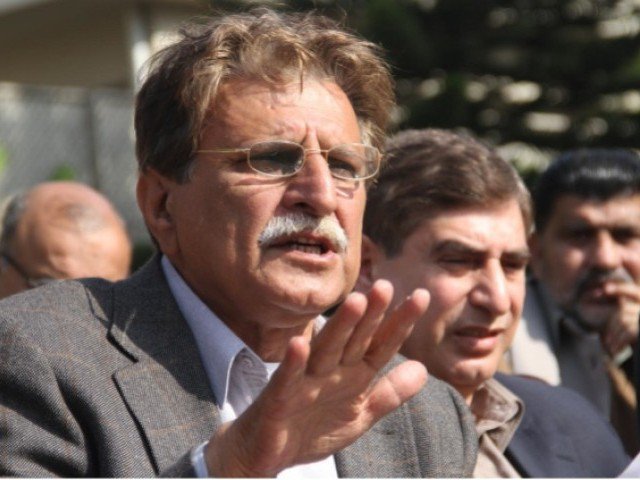 ---
ISLAMABAD:
Azad Jammu and Kashmir Prime Minister Raja Farooq Haider on Wednesday announced his intention to not attend the meeting of the national security, in protest against Prime Minister Imran Khan decision on resumption of ties with India based on IIOJK status.
"Prime Minister Imran Khan and [Indian PM] Narendra Modi are two sides of the same coin. The Aug 5, 2019, step was taken with the consent of Modi and Imran," he said while addressing a press conference along with his cabinet members in the federal capital.
Talking about the AJK elections, he said that PM Imran Khan was showing aggression for the region's polls. He maintained that elections would be held against the agenda of "dividing Kashmir".
Read: Senate seeks restoration of IIOJK previous status
"Elections will be held in AJK on July 25 that will be contested on the national agenda," he said, adding that there was an international agenda for Kashmir. He alleged that PM Imran and his AJK government cannot sustain the international pressure on Kashmir.
On the prevailing situation in Indian Illegally Occupied Jammu and Kashmir, he said that Modi had brazenly violated the United Nations resolutions. He claimed that the premier and the ruling government didn't presented the Kashmir cause "effectively" at the international stage.
Haider further alleged that the foreign affairs ministry didn't perform any important work related to Kashmir at the international stage. "No one is paying attention to PM Imran's government at the international stage. Imran has no reputation. No one is answering his phone," the AJK prime minister said.
Read more: Occupied Kashmir leaders to urge India's Modi to restore region's autonomy
The incumbent federal government was heading towards dividing Kashmir, he alleged, adding that the PM-led government violated the UN resolutions by announcing their decision to give provincial status to Gilgit-Baltistan.
"2021 election is against the division of Kashmir. We will not forget our past and sacrifices. [If] Imran Khan wants to forget the past so he may," Haider said.
In a message to AJK people, he said: "I want to tell people that the current system in Pakistan won't last long. Imran Khan is laundering money through AJK elections." He alleged that the PM House was being used for AJK elections, adding that the incumbent premier was making the position of PM controversial.
Also read: 'India wants talks with Pakistan to cover illegal acts in IIOJK'
He was of the view that AJK is the "base camp" of freedom movement, saying that they will make it difficult for PM Imran if the latter tried to divide Kashmir.
"There can be no political conversation with PM Imran," he said, "PM Imran can only do ball tampering." Haider claimed that the premier wasn't aware of nuances of the politics.
The AJK PM thanked former premier Nawaz Sharif for the allocation of "exemplary funds". He claimed that PML-N's central leadership and Maryam Nawaz would lead in the AJK elections.
COMMENTS
Comments are moderated and generally will be posted if they are on-topic and not abusive.
For more information, please see our Comments FAQ