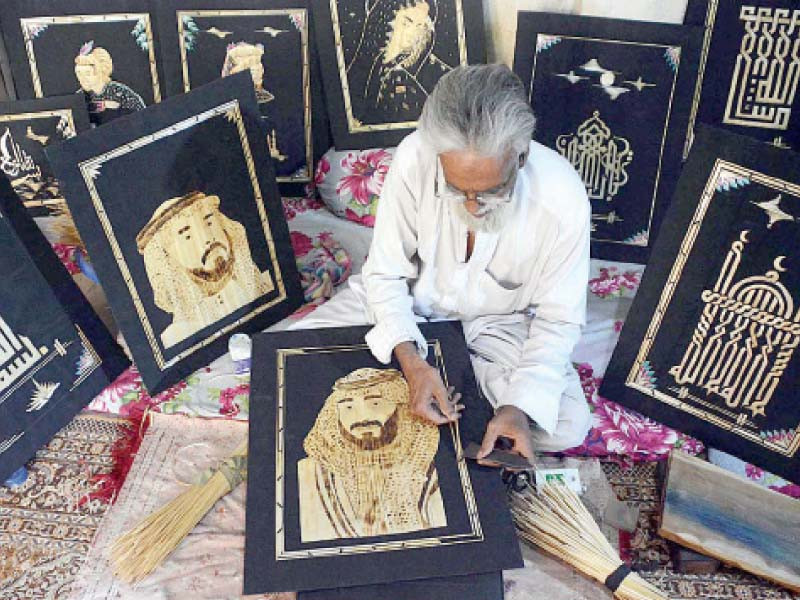 ---
PESHAWAR:
Painting and sculpting are parts of art and designing but making portraits from barks and straws of wheat plant, plywood and black cloth was a unique and different idea.
Syed Abid Shah, a local artist in Peshawar, is a master in making portraits by using bark and straw of wheat plant, plywood and black cloth, at his home in Achar Kale Kohat Road.
He has learned the unique artwork from his uncle and has been making portraits for the last 50 years.
According to him the artwork has a history of more than 200 years and there were four artists across the country who were adept at making this kind of picture. He added that four artists who worked in the same medium had died and now he was the only one left in this field of art.
"I am associated with this line of work due to my passion and love for it," he told APP.
Shah, whose artwork exhibitions were held in Islamabad, China Centre and fine arts colleges in Lahore, was working on a unique picture of Saudi Crown Prince Muhammad Bin Salman.
Read More: Agriculture secretary visits Barkhan
He said that the work on portrait started on the request of a Saudi journalist. "The picture is being prepared due to my love and respect for Saudi crown prince," he said, adding it was his utmost desire to personally present the picture to the crown prince as a token of love.
The artist appealed for setting up an institution or studio in Gor Gathri for promoting the unique artwork, adding that it would also help introducing his work to tourists and create opportunities for generating income.
"The artwork is unique and I get orders from various countries including China, Dubai, Europe and USA but due to limited resources I can't showcase my art at national and international forums," he added.
Published in The Express Tribune, June 30th, 2021.
COMMENTS
Comments are moderated and generally will be posted if they are on-topic and not abusive.
For more information, please see our Comments FAQ