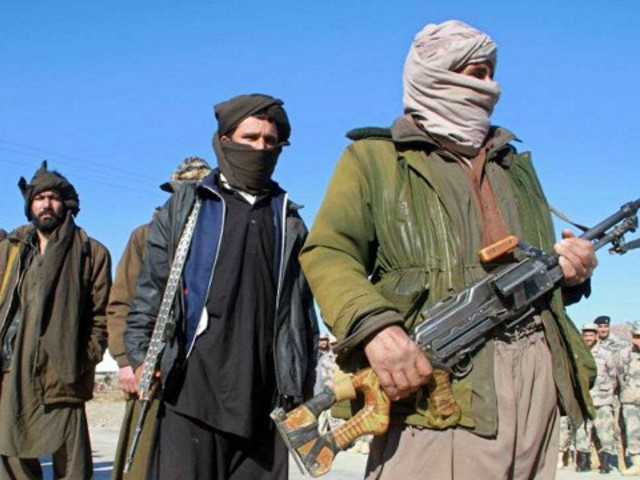 ---
ISLAMABAD:
Pakistan was not expecting the Afghan Taliban to make rapid inroads after the US and Nato forces began their drawdown from May 1, officials who deal with the Afghan situation said.
Since May 1 when the US and Nato forces started pulling out their troops from Afghanistan, the Taliban have captured 69 of the country's 407 districts including territory in northern provinces once seen as off-limits for the insurgents and a stronghold for the government, according to the Long War Journal.
The Taliban now hold 142 districts, and are fighting for control of about 170 more. Just this week, the insurgent seized Shir Khan Bandar, the main northern border gateway to Tajikistan.
Also read: Pakistan wants stable govt in Afghanistan: Fawad
"This is unprecedented. In our assessment we never thought Taliban could make inroads that fast after the beginning of the US withdrawal," said a senior official while speaking to The Express Tribune on condition of anonymity.
"They (Taliban) have stretched their influence as far as along the Tajikistan border," he said
What worries Pakistan is the lack of resistance or little resistance offered by the Afghan security forces in the face of Taliban onslaught. The Afghan National Army has a total strength of 300,000 troops while the Taliban are believed to have 10,000 well armed foot soldiers.
"The information we are getting from the ground is that Taliban riding on bikes are taking control of APCs [Armoured Personnel Carriers]. This is unbelievable," the official added. The Afghan Taliban claimed that in many districts they took control after Afghan security forces either surrendered or fled.
President Ashraf Ghani, who was in Washington recently, insists that the Afghan security forces are putting up resistance and have retaken the control of six districts from the Taliban. But President Ghani is seen as an obstacle to peace efforts by many within Afghanistan and outside.
"The reason is that he is neither interested in peace talks nor willing to fight the Afghan Taliban. If he thinks someone else will fight the Taliban he is surely mistaken," the official said.
An unnamed western diplomat in Kabul told Al-Jazeera that President Ghani is a lonely figure in the Afghan government. According to the diplomat, Ghani only consults with his chief of staff, his national security adviser and perhaps his wife.
Also read: Pakistan hopes 'Taliban won't allow TTP to operate in Afghanistan'
While his visit to Washington may have given him some boost, the message from President Biden was clear that Afghans themselves have to decide their future.
"This is exactly our position. We believe Afghans have to make a clear choice. If they can't sit and talk among themselves nothing can work," another Pakistani official said.
As the Afghan situation hangs in balance, Pakistan is nevertheless still making efforts on its part to seek a political solution. Islamabad has reached out to Afghan leaders from across party lines, encouraging them to seek a political solution.
After the failure to organize a conference in Turkey, efforts are being made to bring Afghan government and Taliban to the negotiating table either in Doha or Islamabad.
But given the differences and rapid gains being made by Taliban on the battlefield, observers are not hopeful for any breakthrough in the near future.
COMMENTS
Comments are moderated and generally will be posted if they are on-topic and not abusive.
For more information, please see our Comments FAQ