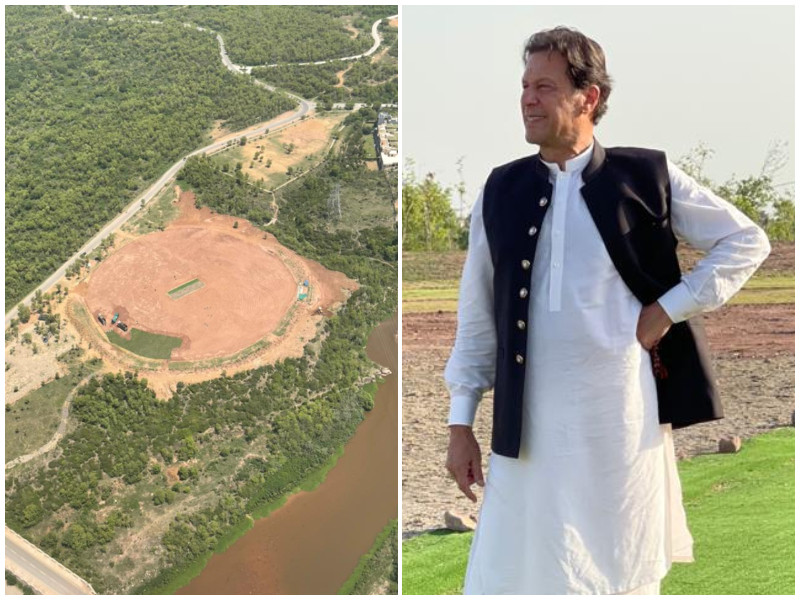 ---
Prime Minister Imran Khan has said that a cricket ground is being prepared for the youngsters in Bani Gala, Islamabad.
"InshaAllah, we are planning for sports grounds at Union Council level all over Pakistan," the premier wrote on his official Twitter handle on Saturday.
Preparing a cricket ground for the youngsters of Bani Gala. InshaAllah, we are planning for sports grounds at Union Council level all over Pakistan. pic.twitter.com/L6RYY6Vy71

— Imran Khan (@ImranKhanPTI) June 26, 2021
Former cricket star and captain of the national team inspected the ground himself during a visit to Bani Gala, an area where he resides himself.
During the visit, a local caretaker briefed the prime minister about the development work. "I want you to plant some grass here... it will grow simultaneously [along with other patches of grass]," the premier could be seen talking to the caretaker in a short video clip shared on his official Instagram account.
The prime minister's vision is to convert state land available for sports into sporting grounds and parks for youth, the video concluded.
In March last year, while addressing the inaugural ceremony of the K-P Under-21 Games, PM Imran had said that his government is committed to promoting sporting activities across the country.
He said that sporting activities will be enhanced at the union council and the village levels to highlight the talent of the youth.
The prime minister added that sports bring positive changes in society besides providing an environment for healthy competition. He urged the youth to come forward and make the country a great nation.
Read more: PTI govt committed to promoting sports: PM Imran
Having gained worldwide fame for leading the country to its first cricket World Cup, Premier Imran asserted that sports play a key role in the healthy upbringing of the youth.
In this regard, he said that the incumbent Pakistan Tehreek-e-Insaf (PTI) led government will leave no stone unturned in ensuring the provision of the best possible sporting facilities to them at their doorstep.
He expressed his resolve to promote sport events at the grassroots level to exploit the true potential of the youth.
The former cricketer added only those nations emerged as strong who can valiantly cope with the difficult times. He expressed the hope that Pakistan too will emerge as a strong nation and that the youth have an important role in that regard.
COMMENTS
Comments are moderated and generally will be posted if they are on-topic and not abusive.
For more information, please see our Comments FAQ