 ---
the hottest self-care and skin-boosting technique
Gua sha is often touted as "natural Botox" but this skin- glowing technique with an impressive slab of stone is far more than just a trendy skin care ritual loved by wellness influencers and beauty gurus. Some users insist that their skin results are dramatic and some have given a verdict as the best massage of their life. Facial Gua sha is a specific type of massage adapted from ancient Chinese bodywork that utilises a scraping tool to encourage circulation and lymph flow. Traditional East Asian medicine also views blood stasis or stagnation as a cause of pain and illness and one of the main aims of gua sha is to move pooled or stagnated blood to relieve symptoms. Over the period of time the skin looks more sculpted, lifted, and buoyant.
What is Gua sha?
The Gua sha treatment is traditionally used in East Asian and Chinese medicine which treats muscle pain and tight muscles by applying pressure with the Gua Sha tool. 'Gua' means scrape and 'Sha' means sand- It's a treatment that involves scraping a flat jade or rose quartz stone over the skin in upward strokes to relax stiff muscles and promote tissue drainage. Facial tension can be released through a daily practice of oil cleansing and massage, but it turns out that running a flat stone over the contours of your face gives you far more and better results. Practitioners claim that Gua sha can also benefit the immune system and reduce inflammation. In some cases, Gua sha is used to treat a cold, fever and even the problems with the lungs. According to traditional Chinese medicine, qi or chi is energy that flows through the body and many people believe that a person's qi must be balanced and flowing freely to ensure their health and wellbeing. People also believe that qi can become blocked, causing pain or tension in the muscles and joints. Gua sha aims to move this blocked energy to relieve aches or stiffness.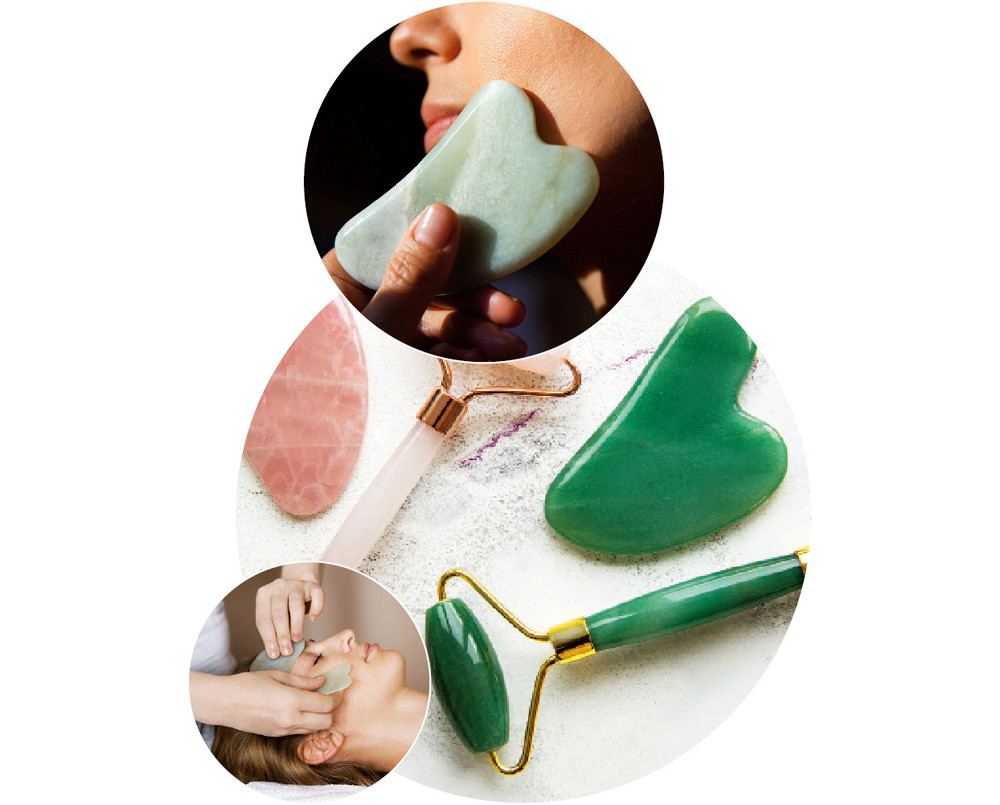 Benefits of using Gua sha
Improves the movement of lymphatic fluids and breaks down tension in muscles and knots in the face, neck, and shoulders.
Reduces facial lines, and can be used almost like a gentle, natural face-lift which results in less puffy eyes and sharper cheekbones.
Increases blood circulation while lifting and firming the skin.
Gus sha gives the face a smoother complexion and more sculpted features.
Gua sha reduces hyper pigmentation from the surface of the skin. Because it may decrease inflammation on the skin, it is frequently used to treat sicknesses that cause chronic pains like arthritis and fibromyalgia, as well as those that trigger muscle and joint pains.
Relieves the side effects of conditions such as migraine, headache, neck pain, premenopausal and hormonal imbalance through lymphatic drainage.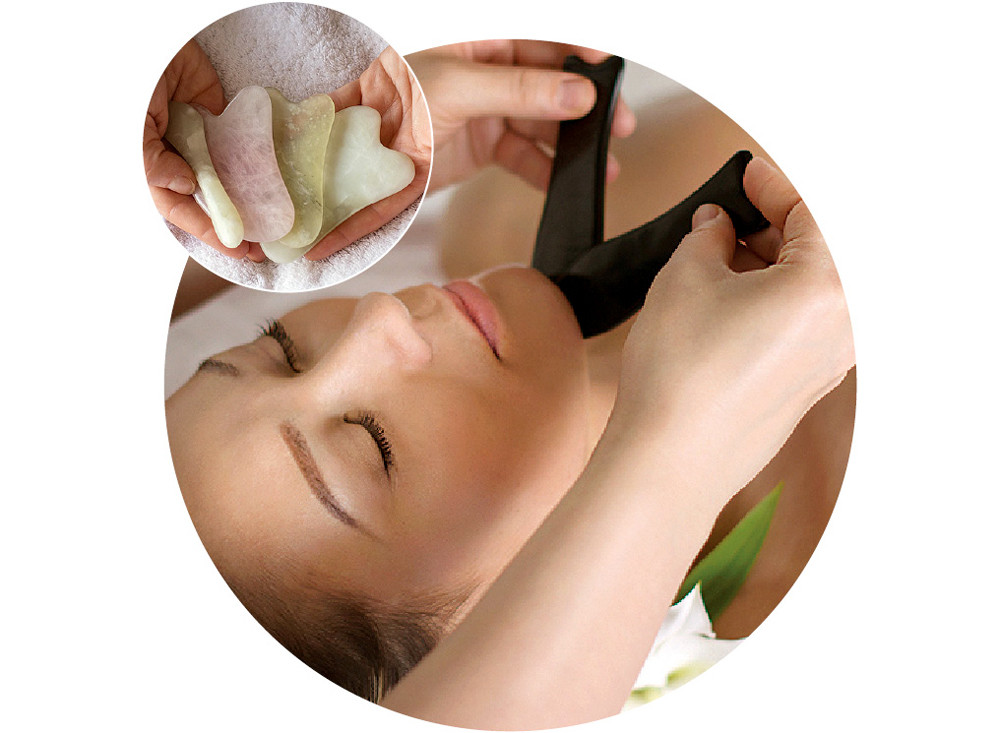 How to use Guasha
A self gua sha practice should start and also finish with neck work. Start with gentle lymphatic drainage strokes upwards and work with more pressure with tight muscles in the back of the neck too as they all act as roadblocks to lymphatic drainage. Move the gua sha from your forehead and motion in an upwards direction, applying a gentle pressure as you go. Then, move the tool to your cheeks, moving the device outwards from the nose to the ear in a "swoop" motion. Finally, flip the gua sha around to the two curved sections. Moving from the chin, scrap along your jaw line until you reach your ear. For best results, experts suggest engaging in these movements for about ten minutes. Another important thing to remember is to scrape in one direction- by channeling the motion in one direction; you will attract more blood and stimulation to a specific area.
Gua sha side effects
As a natural healing remedy, gua sha is safe and does not have any major side effects but since it involves rubbing or scraping skin with a gua sha tool, tiny blood vessels known as capillaries near the surface of your skin can burst which can result in skin bruising and minor bleeding. Bruising usually disappears within a couple of days. Some people also experience temporary indentation of their skin after a gua sha treatment. If you tend to have reactive skin, it can be tempting to "go hard" or fast while using the tool but listen to your skin and be gentle with your skin. If you notice breakouts or any such condition then let your skin heel and meanwhile keep working on your neck.
COMMENTS
Comments are moderated and generally will be posted if they are on-topic and not abusive.
For more information, please see our Comments FAQ