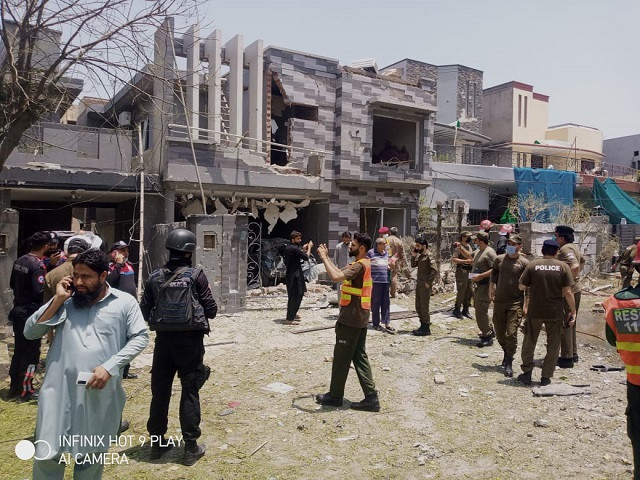 ---
PAKPATTAN:
A man and his son who were killed in Johar Town, Lahore bomb blast on Wednesday have been laid to rest in Dhako Chishti village of Pakpattan amid sobs and tears on Thursday.
Meanwhile, the wife and a 12-year-old son of the martyred rickshaw driver are admitted in Lahore Hospital in injured condition.
However, no official of the administration was present at the funeral of the martyrs.
Abdul Khaliq, a resident of Dhako Chishti village in Pakpattan, who was martyred in the bomb blast that took place in Johar Town Lahore.
The deceased was living in Lahore an used to earn his livelihood by driving a rickshaw which he had taken on installments.
Sources said three people died including Abdul Khaliq and his six-year-old son Abdul Haq. Meanwhile, 21 others, including women and children, sustained injuries when an explosives-laden vehicle exploded in Lahore's Johar Town neighbourhood on Wednesday. A large number of family members, relatives, neighbours came to offer their condolences.
Read Punjab police close to identifying Johar Town blast culprits: Rashid
Top police officials were uncertain about the nature of the blast, while medics said that injured were hit by ball-bearing shrapnel. Punjab police chief Inam Ghani, who described the blast as an "unfortunate terrorist act", said the nature of explosion would be determined after a thorough analysis by experts.
Several buildings and vehicles near the scene of the explosion were damaged, witnesses said. They added that several victims were lying in pool of blood and crying for help, as the area was filled with dust immediately after the blast.
Punjab Emergency Service (Rescue 1122) said that they received a call at around 11.07 am in which the caller informed them about a blast due to gas leakage. However, when the rescuers reached the spot, they found a horrific situation, it added.
According to investigators, preliminary investigation suggested that around 25-30 kilogrammes of explosives could have been used in the blast, as it had left a three feet deep and five feet wide crater at the spot, while shrapnel flew as far as 500 metres.
Talking to the media personnel, officials refrained from saying anything with certainty about the nature of the explosion. However, the victims and their families spoke about the possibility of a terrorist attack.
Published in The Express Tribune, June 25th, 2021.
COMMENTS
Comments are moderated and generally will be posted if they are on-topic and not abusive.
For more information, please see our Comments FAQ