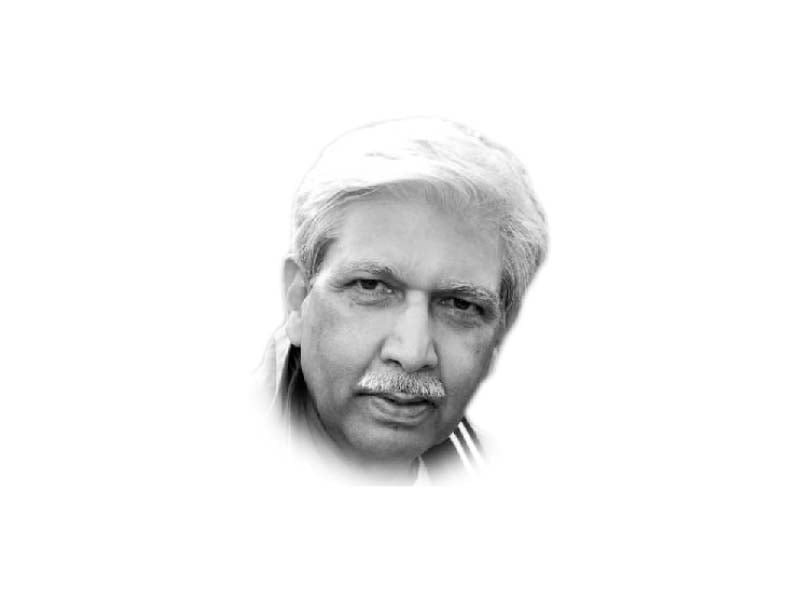 ---
Nothing excites the Pakistani brain more than the prospect of a new world order. It barely conceals the glee of seeing the US nose-diving into annihilation and China taking its place in short order. When more educated estimates of the time it will take China to overhaul the economic and military gap seem to stall the imminence, Russia is inducted on a spur with China to make the slack. Perhaps it stems from the numerous slights to the Pakistani sensitivity vis-à-vis US in historical experience but the impulse is too widely entrenched mimicking places where 'Death to the US' is a street slogan.
Facts point differently: For decades the US has been the highest spender in R&D ($600 billion a year) — China exceeded that amount only this year by $21 billion. This in an economy which already is twice the size of China and 25% of all the world's GDP. US and Taiwan remain the only two patented producers of micro-chips in the world. Taiwan also supplies to China but in what density and size, remains in American control. Another exotic source of emerging technologies exclusively in American domain is Israel. Closed to most of the rest in the world it augments what is already striding in the US. The new economy will be a synergetic composition of nanotech, biotech, robotics and AI, all combined into products which will change the way human life exists. US and China are foremost leaders in this race but time for the technologies to mature and turn into useable products is what will drive the chronology of exclusivity in capacity and capability.
Military budgets and military power are even more instructive. At around $700 billion the US outspends the next 10 countries together on defence. Its military remains the most pervasive, the most dominant and deployed military at over 800 bases around the world — China has only three with a military structure, doctrine and technology that remains a work in progress as it evolves. With leapfrogging technologies the world will witness a quantum leap into uber-Gen warfare which will leave conventional platforms, regardless of their generational antecedents, already obsolete. It shall need cutting-edge minds to comprehend and conceive a modern war to equip, prepare and execute it to effect. Both the US and China can outpace all in this race.
Will the two then carve out the world between them in a replay of the Cold War we know for comfort? Probably not. That will have to, first, depend on when it happens, per time and era when technologies mature to useable levels, and second, what threats may face humans and the planet at the time. ManTech-Robos may sound exotic but are on the anvil to take over most of what humans have been labouring with and will multiply rates of production. Already AI flown fighters are winning against manned-fighters in simulated aerial combat. The rest of the world will simply follow China and the US at the level and scale of their respective economies and brain-trust. The hierarchy of capacity and capability in the world will be thus accordingly structured.
In a world rent asunder with Covid, mutual trade and investment between the US and China stands at around $1 trillion — $600 billion in trade, $400 billion in investment. Does it appear that the two will risk that kind of interdependency in a repeat of an antiquated strategy? Forget the fear being spawned by a hawkish press in need of a bogey, the prosperity the two societies enjoy is more or less financed by the other. No one wrecks their own home. Yes, competition to excel and outdo the other is one thing but to outright commit to open war under the scenario is imprudent and improbable. The famed War on the Rocks for Taiwan doesn't help China whatsoever. Mainland China receives over $150 billion investment from Taiwan and receives a transfer of critical technology to leapfrog to the cutting edge. Why would China close its door to perpetual gain with an unnecessary war?
Instead what is more likely are a different set of threats that will endanger the planet: will, for example, a climatic degradation threatening extinction of the planet and thus human race become the new common bane, say in another 50 years; or will 'ManTech-Robo and technology and its various manifestations reach a point of inflection with human intellect to make human life impossible; or will pandemics, natural and man-made, relentlessly unleash on the human race; or, the need to feed an exploding world population in an increasingly reduced earth resource beckon another frontier? If it ever gets to such multifaceted challenges trust the human instinct to coalesce than pursue pointless, competitive geopolitical ramblings.
Human prosperity, unseen in human history as it stands today, is mankind's biggest vulnerability. Those far ahead on this scale will defend against losing it and not risk it at any cost. The US, world's most powerful nation, has never used its military instrument in a risky venture and done so only when assured of unquestioned domination. It is naive to believe that the US lost the war in Afghanistan. She may have overstayed the invitation given her initial set of goals but successfully dispatched Al Qaeda in Afghanistan and ISIS in Syria to their demise. What may remain are dispersed remnants, if that. It faltered when she pursued illusory goals but her main mission stood accomplished. With this military power American politicians can recover from incidental blunders wreaked under impulse.
The new order will be both cooperative and competitive. Note the tenor of the Biden-Putin meet of last week. The two takeaways related to working on strategic arms control and a framework to control cyber-threats beyond political rhetoric. China's BRI may appear a challenge today but will soon become an avenue of connectivity and cooperation for most of the world; hence even greater prosperity. The US knows the value of being connected and may leverage what the Chinese have created for enhancing her gains.
There is one variable though in this emerging construct: if ultra-right conservatism — to the point of nativism — that Europe exhibits today and the US has had a partial exposure to, entrenches as the dominating strain the West will close itself to being anti-cooperation, anti-globalist and isolationist. China on the other hand will be an internationalist power with its tentacles and interests widespread; and more prosperous because it shall be connected with the world through travel, trade and ideas. Isolationists will suffer for being disenfranchised. This can destabilise the world and will need the US to preserve its liberalist credentials to keep humanity progressing to a promising and a prosperous future. This shall help make the new order universal and pacific than divisive and confrontational. It is time to review our antiquated baselines.
Published in The Express Tribune, June 25th, 2021.
Like Opinion & Editorial on Facebook, follow @ETOpEd on Twitter to receive all updates on all our daily pieces.