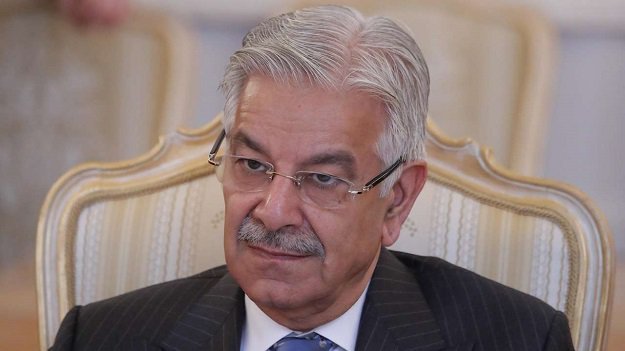 ---
The Lahore High Court (LHC) has finally granted bail to PML-N senior leader Khawaja Asif, who is one of the last PML-N leaders to be released after facing months-long incarceration in connection with a National Accountability Bureau's (NAB) probe into a graft case.
A LHC division bench on Wednesday granted bail to Asif, who was arrested by a NAB team on December 29, 2021 from outside a building in Lahore, where the PML-N had convened a meeting to discuss the future line of action regarding the combined opposition's anti-government movement.
NAB claimed that total assets held by Asif swelled from Rs5.1 million in 1991, when he was elected as a senator, to Rs221 million in 2018, and he needed to justify his ballooning income by providing the source of earning. The former foreign minister had filed a bail application in March.
The LHC bench -- comprising Justice Aalia Neelum and Justice Syed Shahbaz Ali Rizvi -- issued the order after hearing arguments from both sides. PML-N President Shehbaz Sharif expressed joy over Asif's release and said he is thankful that Asif's "unjust" incarceration has come to an end.
"Congratulations to Khawaja Asif Sahib on getting bail from the court order. Khwaja Sahib belongs to our vanguard which is not afraid of prisons or chains.
Read: NAB reference finalised against Khawaja Asif
"With the release of Khawaja Asif on bail, the politics of revenge in the name of accountability has been exposed once again today," Shehbaz said on Twitter.
A day ago, NAB forwarded the reference against Khawaja Asif to NAB Chairman Justice (retd) Javed Iqbal for final approval. Following a probe into his assets, the NAB chairman had approved an inquiry against Asif in September 2018, leading to his arrest in December last year.
The reference said Asif had bought several properties in the name of his family members and also made several investments. NAB said Asif had total assets worth Rs5.1 million in 1991 but by 2018, this figure had ballooned to Rs221 million, which is not proportionate to his known sources of income.
The reference claimed that the former foreign minister had failed to submit any documentary proof in order to defend himself from the allegations of money laundering.
A referee bench of the LHC on April 22 also granted post-arrest bail to PML-N President Shehbaz Sharif after he spent nearly seven months in jail in connection with NAB's probe into a money laundering case. The PML-N president was arrested by NAB in September 2020 after the LHC rejected his bail plea.