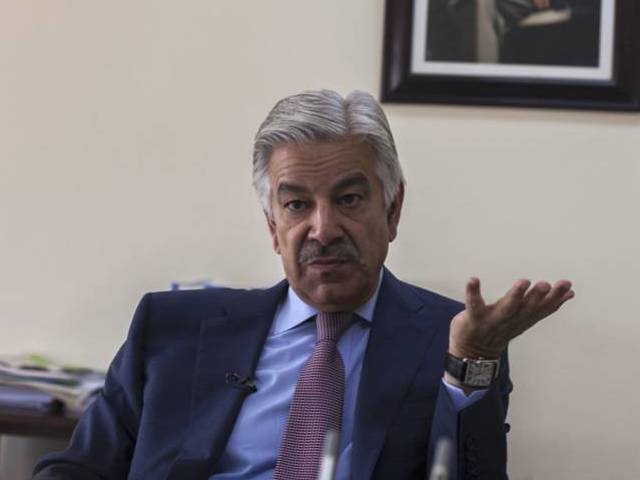 ---
LAHORE:
The National Accountability Bureau (NAB) on Monday prepared a reference against PML-N senior leader and former foreign minister Khawaja Asif in assets beyond means case.
The reference has been forwarded to the NAB chairman for final approval.
Asif has been accused of money laundering and amassing assets while holding public offices from 1991 till date.
Following the probe into his assets, NAB Chairman retired Justice Javed Iqbal had approved an inquiry against Asif in September 2018, leading to his arrest in December last year.
The reference further said that Asif bought several properties using his family members and also made several investments.
NAB Lahore said that Asif was elected as senator in 1991, prior to which he had total assets of Rs5.1 million. By 2018, this figure had ballooned to Rs221 million, which is not proportionate to his known sources of income.
Read PML-N's Khawaja Asif seeks post-arrest bail in NAB inquiry
The parliamentarian declared salary from International Mechanical and Electrical Company (IMECO), a UAE-based international firm, as the main source of income. However, during the investigations, he could not produce evidence of the transaction from the company.
The national graft buster had asked Asif to provide the job application he had submitted to a foreign company as well as his iqama agreement (work permit).
The regional bureau of the anti-graft body asked the managing director Elias Salloum to appear before a combined investigation team (CIT) at NAB Complex Thokar Niaz Beg on January 28 along with all relevant documents. The managing director, however, did not show up.
NAB reference also added that Asif failed to submit any documentary proof in order to defend himself from the allegations of money laundering.
The reference, after the approval, will be filed in the accountability court.
NAB has alleged that the PML-N stalwart has allegedly committed offences of corruption and corrupt practices as defined u/s (v) of NAO-1999 and Section -3 of Anti Money Laundering Act (AMLA) 2010.