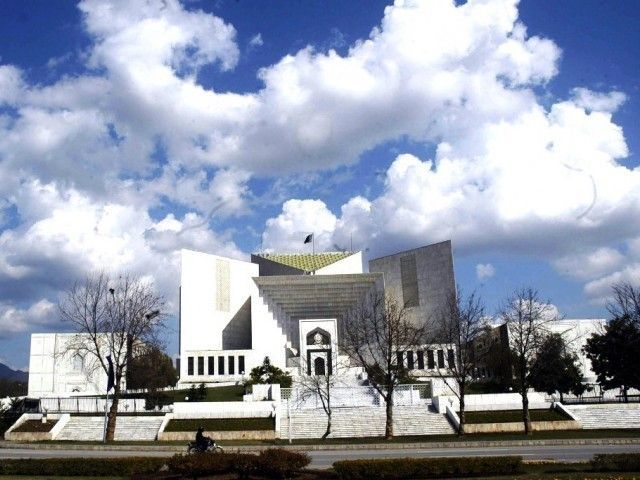 ---
ISLAMABAD:
The Supreme Court has ruled that the Prime Minister's Assistance Package for Families of Government Employees is not applicable retrospectively. The court has noted that applying the packing retrospectively would open a floodgate for all other "similarly placed persons".
The government of Pakistan on June 13, 2006 issued "Assistance Package for Families of Government Employees who die in service" – effective from July 1, 2005.
Under the package, one member from each family of a deceased government employee was offered contractual jobs for 2 years in various grades from BS-01 to BS-15 without advertisement.
This package was amended thrice – on October 20, 2014, December 4, 2015 and September 9, 2016 – whereby the two-year contract period was enhanced to 5 years and the same was also made extendable till the age of superannuation or regularization.
While issuing its verdict on an appeal filed against a Peshawar High Court (PHC) order, a three-judge Supreme Court bench headed by Chief Justice Gulzar Ahmed noted that the PHC erroneously presumed that the package applied retrospectively.
"It is an admitted fact that the respondent's father died in the year 1995 while he [father] was in regular service of the Accountant General KPK being senior auditor.
"At that time, there was no scheme/policy in the field for induction of family members of deceased civil servants in service," said the 3-page order authored by Justice Sayyed Mazahar Ali Akbar Naqvi.
"We have perused the Assistance Package and the subsequent amendments but could not find any provision therein which gives it retrospective effect especially when the grievance of respondent was agitated with a lapse of almost 17 years.
The order said it is an established principle of interpretation of statutes/notifications/executive/ administrative orders that they would operate prospectively unless they expressly provide for retrospective operation.
"This court in the case of Hashwani Hotels vs Federation of Pakistan (PLD 1997 SC 315) has acknowledged this fact by observing that it is a well-settled principle of interpretation of a notification and/or an executive order that the same can operate prospectively and not retrospectively."
The court also said the principle is equally applicable to a statute in the absence of any express or implied intendment contrary to it.
"It is clear that the assistance package… was not available at the time when deceased employee died and the same was issued later on with prospective effect, the respondent was not deprived of any right accrued to him at the relevant time by not appointing him," it said.
In view of these reasons, the bench set aside the PHC judgment in which the government was directed to hire the respondent No 1 – Muhammad Ismail – in pursuance of "Prime Minister's Assistance Package for Families of Government Employees".
COMMENTS
Comments are moderated and generally will be posted if they are on-topic and not abusive.
For more information, please see our Comments FAQ