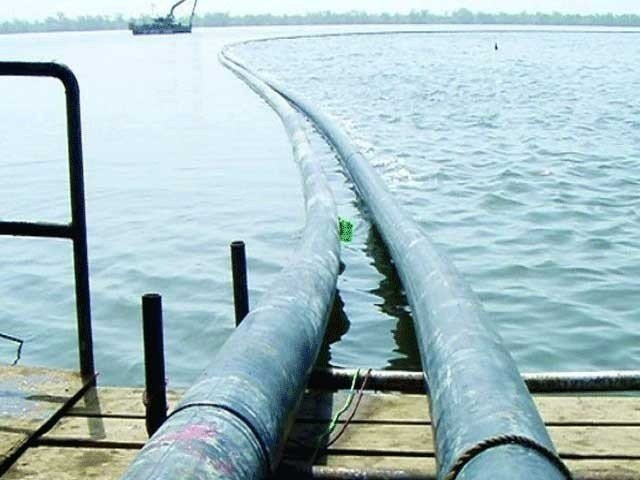 ---
KARACHI:
Lawmakers from either side of the aisle cried foul over the lack of potable water across Sindh on Tuesday as the provincial assembly continued post-budget debate. Water and sanitation issues have always dominated budget sittings in the house and the fourth post-budget session was no different. Despite political differences and point scoring on other issues, lawmakers belonging to the ruling Pakistan Peoples Party and opposition parties were united in expressing their concern on the lack of potable water.
"We have waited another year, but citizens of Karachi are yet to receive [uninterrupted supply of clean] tap water," said Pakistan Tehreek-e-Insaf (PTI) MPA Khurrum Sher Zaman, addressing the house.
Zaman, who is the PTI's deputy parliamentary leader in Sindh Assembly, alleged that Karachi Water and Sewerage Board (KWSB) officials were busy minting money by allowing illegal water hydrants to flourish and for water to be supplied through tankers. "The hegemony of the tanker mafia still continues because it is a multibillion rupees business,"claimed Zaman.
Moving onto solid waste disposal, Zaman alleged that the Sindh Solid Waste Management Board (SSWMB) had utterly failed to deliver. "One can see the solid waste piled up in every nook and cranny of Karachi. We want to know where the vehicles imported from China for this purpose are." The MPA further expressed concern over rising street crime in the metropolis. At least 42,000 vehicles and 32,000 mobile phones were stolen from citizens last year, according to Zaman.
When it was his turn to speak, PPP's Rana Hamir Singh drew the house's attention towards non-functional drinking water schemes and the reverse osmosis (RO) plants installed in Thar at the cost of billions of rupees. He demanded of the PPP-led Sindh government to ensure restoration of the plants lying dormant. "The company that set up RO plants has cheated the Sindh government and people living in Thar. Around 750 plants are closed," he said, urging the provincial government to also distribute solar pumps in the area for irrigation and drinking water purposes.
Meanwhile, Grand Democratic Alliance's (GDA) Ali Gohar Mahar, who remains absent the entire year and only shows up in the assembly for budget sittings, came down hard on the Punjab government for releasing industrial wastewater in Ghotki district. "The effluent from Punjab industries have caused havoc in our area. Thousands of acres of fertile land has [been rendered] barren because of hazardous waste. We have been protesting for many years but one takes this seriously."
Mahar, whose party is an ally to the PTI-led coalition government in the Centre, dismissed the PPP lawmakers' allegations that the GDA was in favour of the Kalabagh Dam - a highly controversial project opposed by three assemblies of the country. "I was the man who facilitated and hosted the entire crowd when [former prime minister and PPP chairperson] Shaheed Benazir Bhutto had staged a sit-in against Kalabagh Dam at the Punjab border. How can they call me a supporter of this dam," he said in his defence. He added that Sindh has suffered because of megaprojects on the Indus River for these projects have controlled and diverted water supposed to reach the tail end of the river in Sindh. "We are with the Sindh government in the case of water," he maintained, criticising the Indus River System Authority for manipulating the issue.
Meanwhile, PTI's Sanjay Gangwani deplored rising crime in Shikarpur district. The area that was once an economic hub is now known by criminal hatcheries set up in its katcha area, said Gangwani. HE also pointed out that 630 out of 982 public schools were without electricity and at least 420 schools were without potable water and sanitation facilities.
Meanwhile, PPP's Shamim Mumtaz and Jam Khan Shoro used their respective budget speeches to censure the PTI-led Punjab and federal governments over rising incidents of child rape, prevelance of quack doctors, inflation hike and political victimisation.
"We are an agricultural country and used to export wheat. Now, we have to import wheat because of wrong policies of the federal government," said Shoro.
PPP lawmakers Sajeela Leghari, Heer Ismail Sohu, Parveen Bashir Qaimkhani and Ghanwer Ali Isran and PTI's Adeel Ahmed and Sidra Imran also spoke on the budget before the session was adjourned till today (Wednesday).
Published in The Express Tribune, June 23rd, 2021.