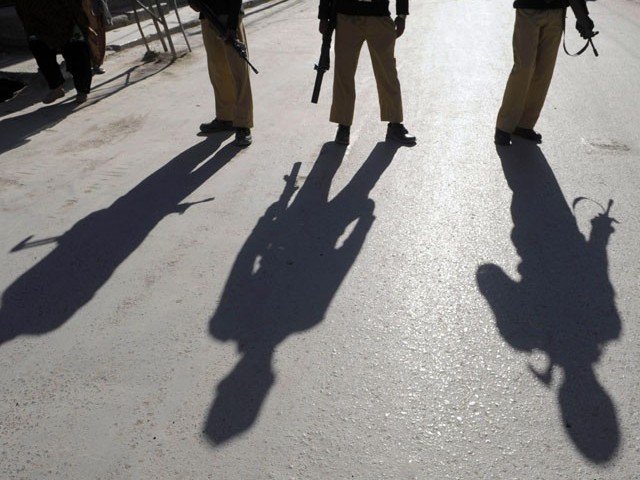 ---
KARACHI:
Muttahida Qaumi Movement-London (MQM-L) activists arrested from Mirpurkhas have revealed that they were sent to India by the then MQM leadership to receive training by Indian's Research and Analysis Wing (RAW) in the late 1990s, claimed Counter Terrorism Department (CTD) officials on Tuesday.
Addressing a press conference at the Civil Lines Police Station, CTD DIG Omar Shahid said that his department and the Federal Investigation Agency (FIA) arrested two more MQM-L activists on the indication of suspects previously arrested.
According to Shahid, the CTD had arrested three alleged MQM-L activists following a raid near Landhi Railway Station. The arrested suspects were identified as Naeem Ahmed, Imran Ahmed and Aleemuddin and during interrogation they confessed to their affiliation with a six-member team of MQM-L terrorists, two of whom were based in Mirpurkhas, added Shahid.
Subsequently, a joint team of the CTD and FIA conducted a raid in Mirpurkhas and hauled in Wajeeh and Abdul Naeem. During the raid on the hideout, the DIG claimed that the police found an anti-aircraft gun, two 44 bore rifles, a 222 rifle, a hand grenade, two improvised rockets, two pistols and ammunition in the suspects possession.
Shahid said that the arrested suspects informed during interrogation that then MQM leaders, advocate Anis Ahmed and Wasay Jalil, had introduced a system from 1998-2003 under which party activists from interior Sindh were sent to India to get training from RAW for subversive activities.
According to the CTD, advocate Ahmed, who is now a leader of the Pak Sarzameen Party (PSP) and Jalil would conduct interviews of students and workers affiliated with the MQM and then select candidates to be sent to India for training.
The two MQM-L activists arrested from Mirpurkhas were sent to India for a long time and they underwent military training from RAW in Delhi, Bhojpur and Jodhpur and other areas, said Shahid. The suspects were trained to use weapons, supply weapons across borders, camel riding, and counter surveillance to help their other partners in crossing the border, he added.
Anis and Jalil bore the expenses of the entire training, the suspects allegedly told the CTD during interrogation.
CNIC blocked
Moreover, Shahid said that on his department's request NADRA blocked the CNIC of advocate Ahmed, who has also been restricted from travelling out of the city. The CTD has already seized his passport and his mobile phone with a warning that he would be considered an absconder if leaves the city.
The PSP leader was officially included in the probe pertaining to MQM links with RAW and was summoned last week for questioning, recalled Shahid.
He added that advocate Ahmed, failed to satisfy the interrogators over allegations of him facilitating the training of party workers through RAW. Besides, a forensic analysis of advocate Ahmed's mobile phone indicated suspicious bank transactions, said Shahid, adding that Jalil is settled abroad and efforts are underway for his repatriation.
Published in The Express Tribune, June 23rd, 2021.
COMMENTS
Comments are moderated and generally will be posted if they are on-topic and not abusive.
For more information, please see our Comments FAQ