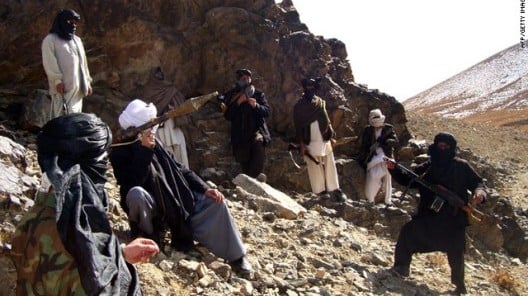 ---
KUNDUZ:
The Taliban captured Afghanistan's main border crossing with Tajikistan on Tuesday, an Afghan provincial official and army officer said, with security forces abandoning their posts at Shir Khan Bandar and some fleeing across the frontier.
Kunduz provincial council member Khaliddin Hakmi said the Taliban "captured Shir Khan port and the town and all the border check posts", while an army officer told AFP separately that "we were forced to leave all check posts... and some of our soldiers crossed the border into Tajikistan".
Meanwhile, the United Nations' envoy for Afghanistan said the Taliban had taken more than 50 of 370 districts and was positioned to take control of provincial capitals.
Fierce fighting between the Taliban and Afghan government forces has taken place on the outskirts of three provincial capitals in the northern provinces of Faryab, Balkh and Kunduz provinces in recent days, officials said.
Also read: Secrets tumble out of Afghan war closet
Since the United States announced plans in April to withdraw its troops with no conditions by Sept. 11 after nearly 20 years of conflict, violence has escalated throughout the country as the Taliban seeks more territory.
Peace talks in Doha have largely stalled, officials say, though there have been meetings in recent days and the Taliban say they are committed to talks.
The UN Secretary-General's Special Representative for Afghanistan Deborah Lyons urged the Security Council to do all it could to push the parties back to the negotiating table.
"Increased conflict in Afghanistan means increased insecurity for many other countries, near and far," she said.
The latest surge in the north is outside the Taliban's traditional strongholds in southern districts such as Helmand and Kandahar where major fighting had previously taken place.
"The Taliban's strategy is to make inroads and have a strong presence in the northern region of the country that long resisted the insurgent group," said a senior Afghan security official on condition of anonymity.
"They would face less resistance in other parts of the country where they have more influence and presence."
US could slow pullout: Pentagon
Meanwhile, the US military could slow down its withdrawal from Afghanistan due to the gains made by the Taliban insurgents, Pentagon spokesman John Kirby said on Monday.
Kirby stressed that President Joe Biden's deadline of a full withdrawal by September remains in place, but added that the pace could be adjusted based on conditions.
"The situation in Afghanistan changes as the Taliban continue to conduct these attacks and to raid district centers as well as the violence, which is still too high," he told reporters.
"If there needs to be changes made to the pace, or to the scope and scale of the retrograde, on any given day or in any given week, we want to maintain the flexibility to do that," he said.
"We're constantly taking a look at this, every single day: what's the situation on the ground, what capabilities do we have, what additional resources do we need to move out of Afghanistan and at what pace."
"All of these decisions are literally being made in real-time," he added.
Pentagon officials said last week that the withdrawal, ordered by Biden in April after nearly two decades fighting al-Qaeda and helping government forces battle the Taliban, is around half completed.
At the time of Biden's order around 2,500 US troops and 16,000 contractors, mostly US citizens, were in the country. The Pentagon has already turned over several of its key bases to government security forces, and has removed hundreds of cargo plane-loads of equipment.
(With additional input from Reuters)