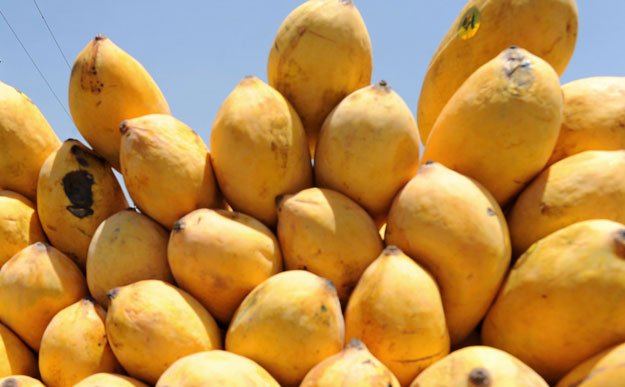 ---
ISLAMABAD:
Nature has bestowed upon Pakistan countless blessings and its fertile soil yields various crops including mangoes that are famous worldwide. Pakistani mangoes are far superior because of their delectable taste to the same fruit grown in other parts of the world.
Traders said with the severity of the pandemic decreasing, the demand for the king of fruits has increased significantly compared to last year.
The mango orchards in Sindh and Punjab are the major source of production in the country, and as soon as December begins, the mango trees start blooming with flowers. The fruit markets of Islamabad offer many mangoes and its season also brings employment opportunities.
From May to June, the atmosphere in the mango orchards is like a fair as it looks like a spectrum of yellow and its shades. Mangoes are harvested in Sindh first. For this, skilled labourers from south Punjab are hired every year. Among many varieties of mangoes, Multan and Bahawalpur are famous for Sindhri, Langra, Chaunsa, Anwar Ratol, Dussehra, Almas, and Saroli while in Sindh, first Saroli, then Dussehra, Desi, and finally Sindhri are produced.
The mangoes grown in Rawalpindi are abundantly available in big and small bazaars of Islamabad, ranging from Rs50 to Rs200 per kilogramme.
In April, the supply of mangoes to major and minor markets was limited because of lockdown and the unavailability of public transport.
A labourer from Multan, Nasir Hussain, told The Express Tribune that it takes five to seven labourers to pick mangoes from a tree. Some of them climb on the branches of the trees and tug the fruit with the help of sticks while two to three labourers hold sacks below them to catch the falling fruit.
In Islamabad's fruit market, the bidding starts at 4am from where the fruits are transported to Azad Jammu and Kashmir, Gilgit-Baltistan, Gujar Khan, and other cities.
Trader Sheikh Abdul Waris said mangoes are brought to local markets from Sindh and Multan while they are sent directly to the United States, Japan, Afghanistan, United Arab Emirates, and Iran from orchards.
Junaid Khan, a pushcart mango vendor, told The Express Tribune that mango is being sold in vast quantity because of its cheap price. The increasing demand yields good profits, he said, adding he earns up to Rs2,000 on a good day.
Published in The Express Tribune, June 22nd, 2021.
COMMENTS
Comments are moderated and generally will be posted if they are on-topic and not abusive.
For more information, please see our Comments FAQ