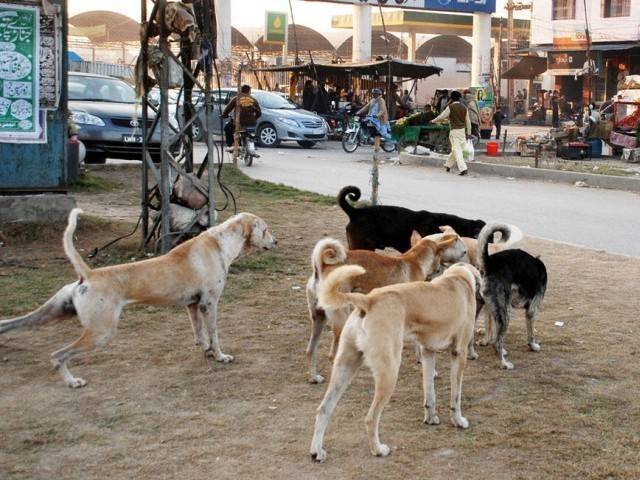 ---
RAWALPINDI:
Around 979 residents of Rawalpindi visited different hospitals to be treated for dog bite injuries in a month. It seems the relevant civic authorities are not taking the dog culling drive seriously, as stray dogs have attacked almost a thousand persons in the garrison city.
A city health department official who furnished the statistics of dog bite cases said it seems many of the incidents of stray dogs attacking people occurred during the night hours.
According to official figures, 474 patients sought treatment in a month in Benazir Bhutto Hospital (BBH) after being attacked by stray dogs. At Holy Family Hospital (HFH) 331 people came for treatment of dog bites while 171 patients were brought to the District Headquarters (DHQ) hospital. The injured citizens were given Equine Rabies Immune Globulin (ERIG) injection to treat them.
All three hospitals currently have sufficient vaccines for dog bite cases, according to a health department official. However, now that the pre-monsoon season has begun, citizens will have to be extra careful because dog bite wounds won't heal quickly in the rainy season.
When contacted, the officials of Rawalpindi Cantonment Board (RCB), Chaklala Cantonment Board (CCB) and the metropolitan corporation said that a dog culling operation was underway.
The officials added that earlier squads were shooting canines. However, stray dogs are now being poisoned. The officials claimed the situation would improve with time.
In February this year, scores of stray dogs were poisoned to death on the first day of a dog-culling drive launched by the Rawalpindi Cantonment Board (RCB). Muhammad Najeeb, the supervisor of the campaign, said the drive would last for a week.
He said that on the first day of the campaign, scores of stray dogs were fed poisoned meat in various areas of the city.
Published in The Express Tribune, June 22nd, 2021.