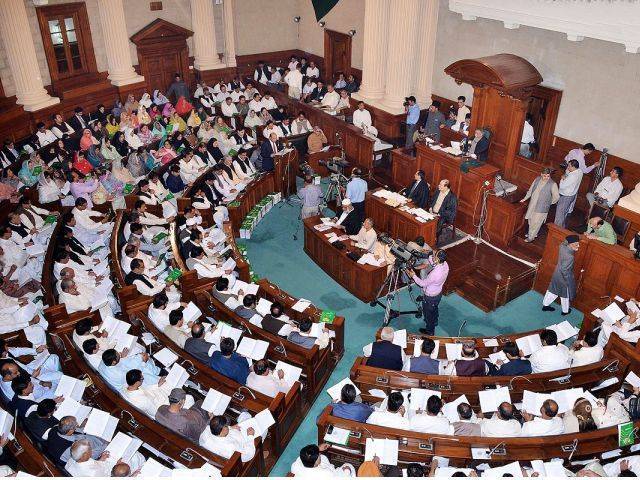 ---
LAHORE:
As the treasury and the opposition lawmakers got engaged in mudslinging, the minorities MPAs boycotted the proceedings of the Punjab Assembly.
Saturday was the third consecutive day on general discussion on the annual budget for 2021-22.
Most of the Pakistan Tehreek-e-Insaf (PTI) and the Pakistan Muslim League-Nawaz (PML-N) lawmakers, who had submitted their names to the Chair for participation on budget discussion, continued lashing out at each other's leaderships while highlighting budget's flaws and features.
Meanwhile, three PML-N's MPAs (two belonged to Christian community and one from Sikh community) boycotted the house proceedings over not being given opportunity to them for speaking on budget.
PML-N's Khalil Tahir Sindhu, Tariq Masih Gill and Sardar Ramesh Singh Arora boycotted the house proceedings.
Read In Punjab, treasury, opp MPAs agree to maintain order in the house
MPA Sindhu said his name was on fifth number of the list which was called by the Speaker but he was not given the opportunity to speak. "The rest of the minority members are also being ignored," he added.
They left the house. But soon the two members of the government persuaded them and they were brought back to the house.
Pakistan Rah-e-Haq party's Muhammad Moavia Azam proposed the government to brig interest-free budget in "Riasat-e-Madina" established by the PTI's Imran Khan. He demanded of the government to allocate funds for education, health, road infrastructure and other sectors of his constituency Jhang.
PML-N's Iqbal Gujjar questioned what was the use of this house if all decisions were taken by the federation. PML-N's Sheikh Allauddin said all institutions have been weakened by the government. He drew government's attention towards illegal housing societies and dilapidated road infrastructure.
PPP's Ali Haider Gillani said his party was ready to cooperate with the government in the provincial and national assemblies as well as Senate over the issue of South Punjab.
Published in The Express Tribune, June 20h, 2021.