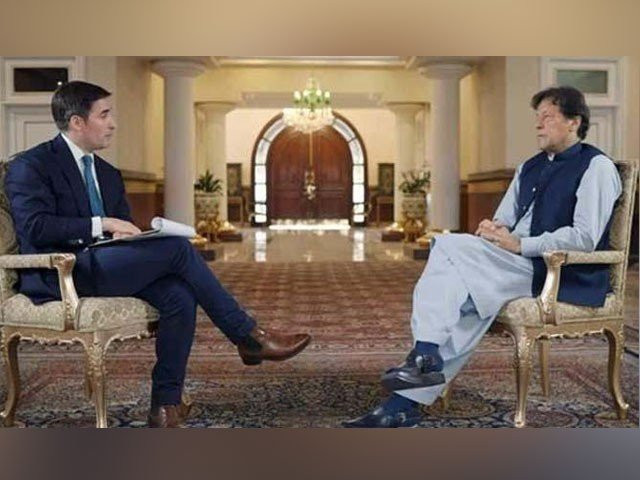 ---
ISLAMABAD:
Prime Minister Imran Khan has categorically said that Pakistan would "absolutely not" allow any bases and use of its territory for any sort of action inside Afghanistan.
"Absolutely not. There is no way we are going to allow any bases, any sort of action from Pakistani territory into Afghanistan. Absolutely not," the prime minister told "Axios on HBO" in an interview.
In an excerpt of the interview – which will be aired today (Sunday) – shared Saturday on Axios website, the interviewer Jonathan Swan questions, "Would you allow the American government to have CIA here in Pakistan to conduct cross border counter terrorism missions against Al-Qaeda ISIS or the Taliban?
Stunned over his clear-cut response of "absolutely not," the interviewer interrupted the prime minister asking "seriously?" to reconfirm his words.
Recently, in his address at the Senate, Minister for Foreign Affairs Shah Mahmood Qureshi also ruled out the possibility of providing its military bases to the US for counter terrorism operations in Afghanistan.
He rejected as unfounded the reports to this effect and made it clear that the government would never provide military bases to the US, nor would allow drone attacks inside Pakistan.
In a cabinet briefing, Minister for Information Fawad Chaudhry also ruled out the possibility of any US airbase in Pakistan saying as all such facilities are under Pakistan's own use.
He said it was the PTI-led government which ended the "drone surveillance" facility given to the US in the past. "All the airbases are under the use of Pakistan. Right now, no negotiations in this regard are underway as Pakistan cannot give any airbase [to any country]," he said.
Last month, the US Centcom chief had said in a Pentagon briefing that al Qaeda, Islamic State and other terrorist groups could regroup in Afghanistan post US-exit and that he would like to keep a small "quick response force (QRF)" on-call in the region to neutralise any threat.
Read: Sullivan confirms US had military talks with Pakistan
This statement had set off speculations that the US could be looking to keep the "QRF" in a military base in one of Afghanistan's neighbouring countries, including Pakistan.
The Russian presidential envoy for Afghanistan, Zamir Kabulov, said on May 24 that Tajikistan and Uzbekistan would not allow the US to establish military bases on their territories. The same day, Pakistan had also sought to quash speculation on this issue.
"There was no US military or airbase in Pakistan, nor is any such proposal being envisaged. Any speculation on this account is baseless and irresponsible and should be avoided," Foreign Office spokesperson had said.
Pakistan and the US have a framework of cooperation in terms of the Air Lines of Communication (Aloc) and the Ground Lines of Communication (Gloc) in place since 2001, he clarified. "No new agreement has been made in this regard."
However, the Afghan Taliban on May 26 warned Afghanistan's neighbouring countries against hosting US military bases following the exit of foreign forces from the strife-torn country.
The Taliban spokesperson Zabihullah Majahid said the "Islamic Emirate of Afghanistan" wanted to clarify its position after "various well-known media outlets reported that the United States wants to stay in our neighbourhood after withdrawing from Afghanistan in order to carry out operations in our country."
The Taliban refer to themselves as the "Islamic Emirate of Afghanistan," the name they used when in power until being overthrown by the US and its Afghan allies in the aftermath of the 9/11 attacks.
"The foreign forces in the region are the root cause of insecurity and war and the great tragedy that everyone has witnessed over the last 20 years, especially our afflicted people, more than anyone else," Majahid said in a statement shared on his Twitter handle.
"We urge neighbouring countries not to allow anyone to do so," he added.
The statement warned that if any neighbouring country of Afghanistan allowed US military bases on its soil, it would be construed as treachery and would go down in history as such.
"The people of Afghanistan will not remain silent in the face of such a provocative act. They will fulfill their religious and historical responsibilities in the same way as they have done throughout history."
In a peace deal signed with the US in February 2020 in Qatar, the Taliban have committed that they would not allow any terrorist group to use Afghanistan's soil against any other country.
"We have repeatedly assured others that our soil will not be used against anyone's security. At the same time, we also urge others not to let their soil and airspace be used against our country," the Taliban spokesperson further added.
Taliban spokesperson Zabihullah Majahid warned of serious consequences, if any country allowed their soil to be used by the Americans to set up a military base.