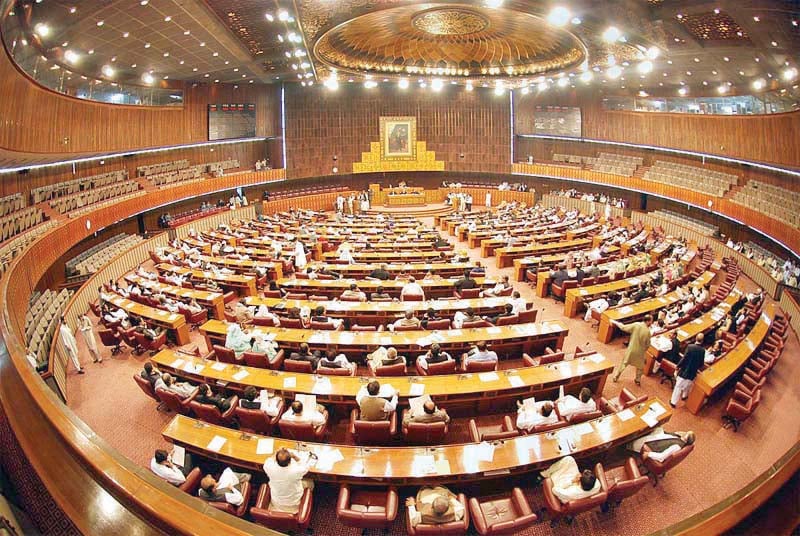 ---
ISLAMABAD:
National Assembly Speaker Asad Qaiser on Friday formed a committee, comprising senior parliamentarians, which was earlier agreed by the treasury and the opposition, to ensure smooth conduct of the house proceedings.
According to the spokesperson for the speaker, the main purpose of setting up the committee was to identify those "who were creating mayhem in the house", and to make the environment conducive for uninterrupted proceedings.
"The speaker was deeply saddened by the untoward incidents that took place during the budget session," the spokesperson said. Without discrimination, the spokesperson added, the speaker barred seven lawmakers from both sides of the aisle for behaving in an "inappropriate manner".
Earlier, this week, the National Assembly proceedings were suspended thrice after the treasury lawmakers, led by some ministers, disrupted the session during Opposition Leader Shehbaz Sharif's speech.
Read Will continue to run the House as mandated: NA Speaker
On Tuesday the house turned into a fish market as the parliamentarians from both the treasury and opposition squabbled with each other, using foul language and threw budget copies, as Shehbaz, the PML-N president, tried to continue his speech.
On Wednesday, the Speaker barred seven lawmakers from both sides of the aisle for creating ruckus and behaving in an "unparliamentary" and "inappropriate manner". However, on Thursday, the government and the opposition dialled down their hostilities to continue the session.
In a statement on Friday, the spokesperson quoted the speaker as saying: "Every lawmaker is entitled to raise objections and has the right to protest but that cannot be used to breach the sanctity of the house. The right ought to be practiced within the code of conduct".
Attributing Thursday's agreement between the opposition and the government to evolve a code of conduct in parliament, the spokesman said that due to the positive role played by Speaker Asad Qaiser "the issues between the government and the opposition could be settled amicably".
"The responsibility for maintaining the sanctity and dignity of the House rests primarily with both the government and the opposition," the spokesperson said. The speaker has made it clear that no compromise will be made on the rules and parliamentary traditions, he added.