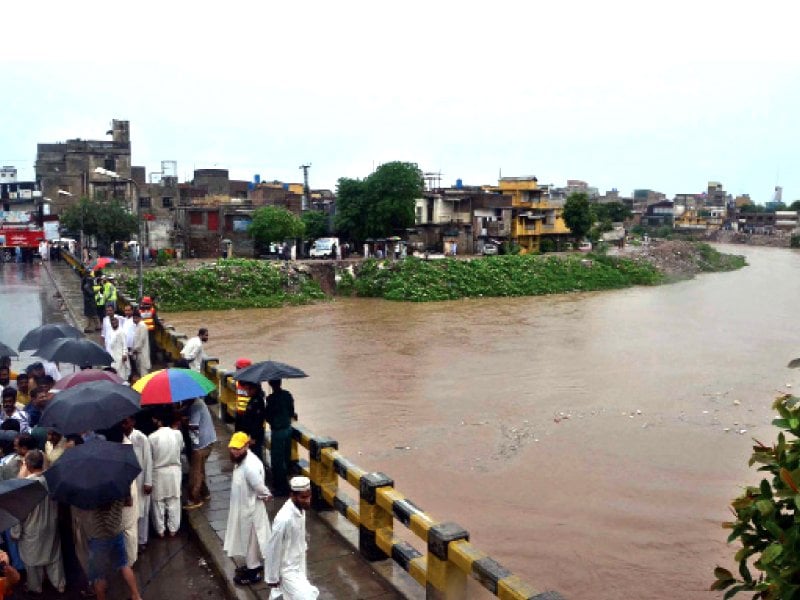 ---
RAWALPINDI:
With the onset of the pre-monsoon season, people living along Nullah Leh, Sawan River and other major tributaries of Rawalpindi have started to move to safe places as the water level continues to surge after three days of rain.
A large number of people residing in low-lying areas on IJP Road and Sawan River have started shifting along with their valuables and belongings to their relatives or rented sites, The Express Tribune learnt on Thursday. Some residents along the Sawan River have even begun securing their cattle pens as the rising water posed a constant threat.
Rawalpindi Deputy Commissioner (DC) Amir Aqiq has also issued instructions to assist the residents in shifting their belongings to safe places.
As dwellers start moving to secure places, the district administration has started an operation to demolish encroachments along Nullah Leh and other nullahs. The district administration has so far demolished 45 shacks and huts built along nullahs, adding that the operation will continue against encroachments to avoid urban flooding.
Read Nullah Leh cleanliness drive under way ahead of monsoon season
Meanwhile, the Water and Sanitation Agency (WASA) also started cleaning small drains in low-lying areas of Rawalpindi. On the other hand, the heavy rain during the last three days has washed away the garbage piled up in all major nullahs, which has improved the water flow.
Rawalpindi Commissioner Gulzar Hussain Shah has directed the authorities concerned to accelerate work to clear 11 tributaries and remove encroachments from the banks of Nullah Leh and other main nullahs before the monsoon rains expected to begin from the last week of this month.
The commissioner said that low-lying areas were facing the threat of flooding during the monsoon season, which could be minimised by clearing the garbage in Nullah Leh and its main nullahs.
He directed the Rawalpindi Waste Management Company (RWMC) and WASA to pay special attention to vulnerable areas such as Ratta Amral, Katarian, Dhoke Najju, Tipu Road, Gawalmandi and Ziaul Haq Colony which face the threat of possible flooding.
Shah said that the officials concerned would be held accountable if encroachments pop up along the banks of nullahs.
Moreover, the Rawalpindi Metropolitan Corporation has issued notices to dwellers living along Nullah Leh and the adjoining areas to vacate their huts on their own before they are bulldozed as the threat of urban flooding could cause severe damage to life and property.
Published in The Express Tribune, June 18h, 2021.