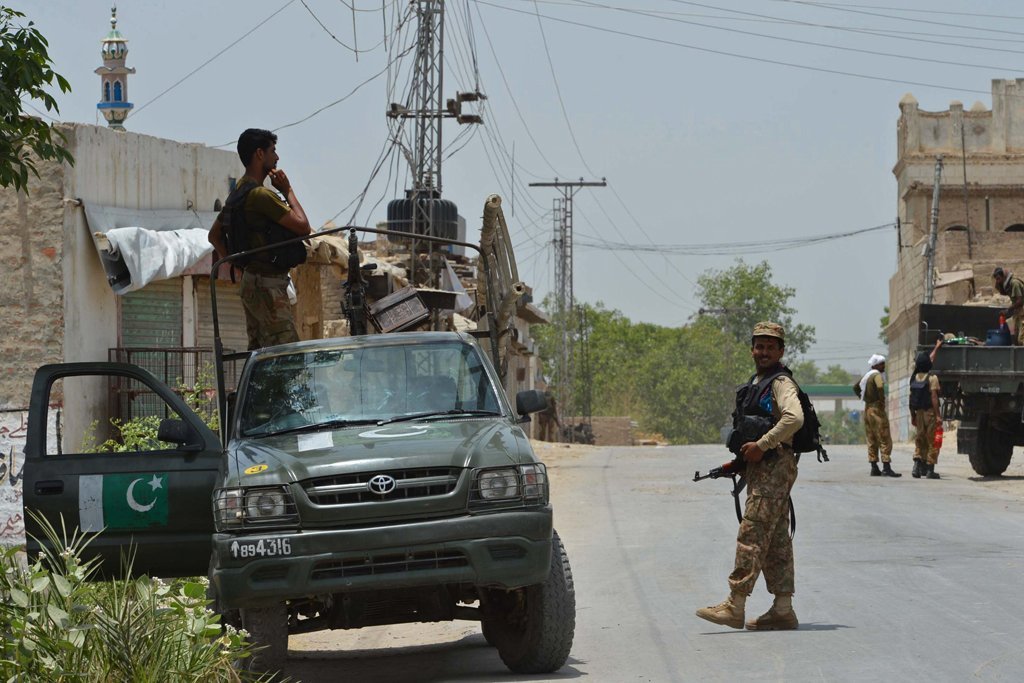 ---
A Pakistan Army soldier was martyred when terrorists attacked a military post in Balochistan's Turbat, a statement issued by the Inter-Services Public Relations (ISPR) said on Thursday.
"Terrorists targeted army troops near Turbat using small arms. As a result of this cowardly act by the miscreants, a brave soldier, Naik Aqeel Abbas, resident of village Mehro Peelo, district Chakwal embraced shahadat [martyrdom]," the military's media wing added.
Following the attack, the ISPR said, a large scale "area sanitisation operation" has been launched by the Balochistan Frontier Corps (FC) to trace and arrest the terrorists.
"Such cowardly acts by inimical elements, backed by anti-state forces cannot sabotage the hard-earned peace and prosperity in Balochistan," it said.
Also read: Four FC troops martyred in IED attack
The ISPR said security forces are determined to neutralise the nefarious designs of enemies "even at the cost of blood and lives".
Earlier this week, four paramilitary troops, including a junior officer, were martyred in a roadside bomb attack in Balochistan.
"Terrorists targeted Frontier Corps troops employed for security of Marget mines on Marget-Quetta road using an improvised explosive device," the army's media wing had said in a statement.
"Resultantly, 4 brave soldiers, including a Junior Commissioned Officer (JCO) of FC Balochistan embraced Shahadat."
Balochistan has seen an uptick in terrorist violence since the US initiated its troop pullout from Afghanistan and the Taliban made quick gains in their fight against the Afghan forces.
According to a report in Afghanistan's ToloNews, nearly two dozen Afghan districts have fallen to the Taliban in a matter of few weeks.
Pakistani officials have frequently said that a nexus of hostile spy agencies – India's RAW and Afghanistan's NDS in particular – are responsible for unrest in Balochistan. The arrest of Indian navy commander Kulbhushan Jadhav lent further credence to this belief.
Jadhav admitted in his confessional video statement that RAW was stoking terrorism in Pakistan, especially in Balochistan and Karachi, by bankrolling, arming and training terrorists.
COMMENTS
Comments are moderated and generally will be posted if they are on-topic and not abusive.
For more information, please see our Comments FAQ