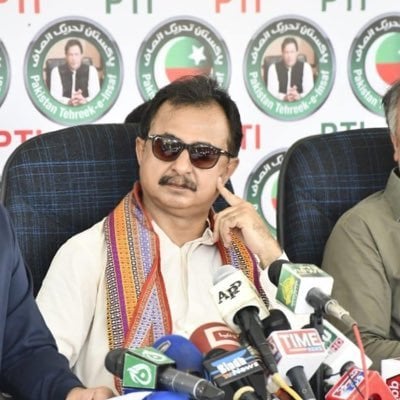 ---
Sindh Assembly Opposition Leader Haleem Adil Sheikh lashed out at Chief Minister Murad Ali Shah for the alleged false statistics the latter presented in the fiscal budget.
Addressing a press conference at his office in the Sindh Assembly, the PTI leader claimed that the decision to register a peaceful protest during the session was a democratic right.
He added the aim was to expose the rulers of Sindh, who according to him, failed to provide any relief to the people of the province.
Read more: Sindh unveils Rs1.4tr tax-free budget
He claimed PPP rulers had crossed all limits of loot and plunder, causing widespread destruction and devastation.
He reiterated that PPP received Rs 8,912 billion over the past 13 years. He quipped that PPP rulers spent the huge sum of Rs.1,646 billion on different so-called development schemes, while the rest was lavishly spent on the merrymaking, dance parties and construction of palatial homes.