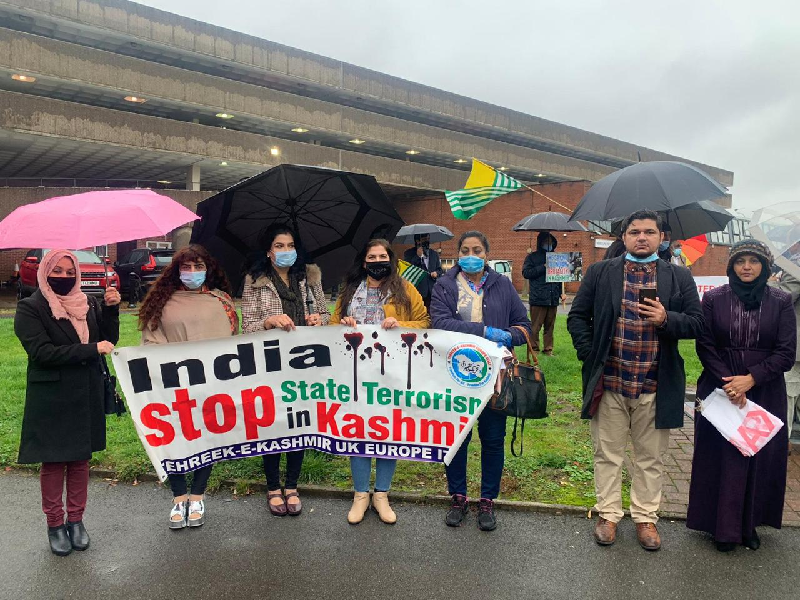 ---
BIRMINGHAM:
The Tehreek-e-Kashmir UK (TeK) staged a protest against the killing of three Kashmiri youth by the Indian army in the Sopore region of Indian Occupied Jammu and Kashmir (IIOJK), outside the Indian consulate in Birmingham, on Wednesday.
The protest was led by TeK UK president Raja Fahim Kayani.
The protestors chanted pro-freedom slogans and condemned India's oppressive tactics against the innocent people of Kashmir.
Stop the War (STW) Coalition delegation led by Stuart Richardson, secretary-general of STW Birmingham, also participated in the protest and showed solidarity with Kashmiris, urging the international community to put pressure on India to withdrawal Indian troops from IIJoK.
Read Hundreds protest in UK against India's human rights violations in IIOJK
TeK president Kayani said that the Sopore killings have added to the brutal massacres carried out by India in IIOJK.
"Thousands of people attended funerals of three Kashmiris killed by the Indian troops in Sopore. The martyrs' funeral in Sopore is an illustration that Kashmiris are solidly behind freedom movement" the president added.
Kayani also said that massacres being carried out by India in IIOJK are meant to strengthen occupation.
"India conducts massacres in IIOJK to instil fear among the Kashmiri people. Through Sopore-like massacres, India plans to quell the mass uprising in IIOJK and India has crossed all records of atrocities in IIOJK" Kayani asserted.
"The world community must come forward to stop the genocide of Kashmiris in IIOJK" he further asserted.
The brutal killing of Kashmiris by the Indian army was also condemned by Mushtaq Hussain, Raja Fayaz, Muhammad Aftab, Naila Khan, Gilbert, Abdeen, and Azam Farooq.
"Huge participation at martyrs' funerals in Sopore is a symbol of people's rejection of India. The Kashmiri people will continue sacrificing their lives for freedom from the Indian yoke. A clear message to India that Kashmiris will not surrender." said Khawaja Muhammad Suleman, a founding member of the TeK.