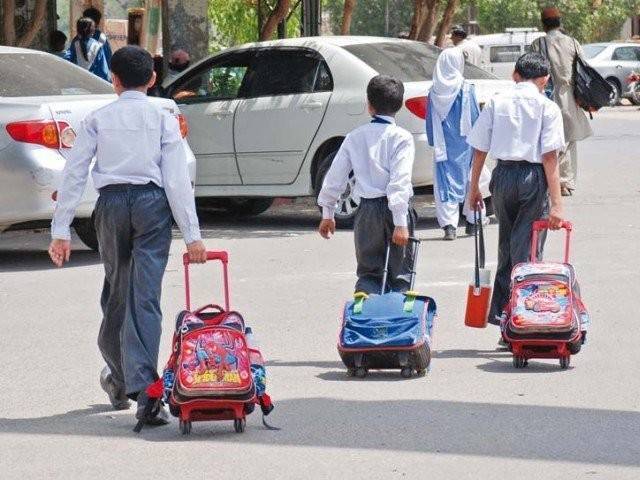 ---
KARACHI:
Amid a sharp decline in reported coronavirus cases across the province, the Sindh government announced on Monday the resumption of physical classes for Grades VI to VIII with 50 per cent attendance policy from today (Tuesday).
A meeting of the Provincial Task Force on the Coronavirus also decided that henceforth only one day of the week would be observed as 'safe day' - commercial activities will remain suspended only on Sundays as opposed to Fridays and Sundays.
Schools reopening
On-campus academic activities will resume for students of Grades VI to VIII across the province, said Sindh Education Minister Saeed Ghani, adding that physical classes for students of Grade V will also resume from June 21 if the coronavirus situation continues to improve.
He reiterated that the decision to resume on-campus educational activities is contingent upon strict adherence to coronavirus-mandated standard operating procedures (SOPs). These include the use of face masks and social distancing as well as a 50 per cent attendance policy in classes.
Moreover, it is mandatory for all teaching and non-teaching staff at educational institutes, he added.
In a statement issued on the day, he apprised that the provincial task force had approved the decision.
Although the positivity rate in Karachi and Hyderabad is still above five per cent, the overall situation in the province has improved due to increased vaccinations, said Ghani. He recalled that physical classes for students of Grades IX and above resumed last week and a decision will be taken regarding the resumption of on-campus activities after a week.
Drop in positivity ratio
Earlier, the meeting of the task force, led by Sindh Chief Minister Syed Murad Ali Shah, was informed that overall coronavirus detection ratio of the province has dropped to 4.5 per cent.
The meeting was told that Karachi's positivity ratio for the past week was recorded at 9.5 per cent, with the highest number of cases detected in Karachi East where the positivity ratio was at 12 per cent.
Read more: Educational, tourist activities resume in several districts as Covid restrictions ease
Meanwhile, a positivity ratio of 12 per cent was observed in South district, eight per cent in West and seven per cent in Central district.
Officials were apprised that in Hyderabad the detection ratio of the past week was recorded at 5.65 per cent.
The number of coronavirus fatalities remained high, however, with 192 deaths reported in June thus far and 392 fatalities recorded in May alone.
The detection ratio has started declining and will hopefully decrease further if SOPs are implemented in true letter and spirit, said Shah.
The task force recommended that on-campus educational activities be permitted to resume.
Besides, the meeting was apprised that out of the 3,035,998 anti-Covid jabs received thus far, 2,466,458 doses have been administered.
The health department was directed to further expand vaccination drives and increase coverage.
Safe days
The Sindh government also decided to allow business activities to continue six days a week and observe a safe day only on Sundays. Earlier, commercial activities had been restricted on Fridays and Sundays in a bid to curb the spread of the contagion.
The CM observed that the National Command and Operation Centre has reduced safe days to a single-day in the week and hence Sundays would be observed as such in the province.
The task force is scheduled to meet again on Saturday to further review the situation.
Ghani, Sindh Health Minister Dr Azra Pechuho, Sindh Local Government Minister Syed Nasir Hussain Shah, Sindh Industries and Commerce Minister Jam Ikramullah Dharejo, Sindh Chief Secretary Mumtaz Shah, Sindh IGP Mushtaq Maher, Sindh Home ACS Usman Chachar, Karach Additional IG Imran Minhas, Sindh Finance Secretary Hassan Naqvi, Jatoi, Sindh Industries Secretary Riazuddin, Dr Bari, Dr Faisal, Dr Sara Khan, Dr Qaiser Sajjad, representatives of Corps V and Sindh Rangers and other officials attended the meeting.
Published in The Express Tribune, June 15h, 2021.
COMMENTS
Comments are moderated and generally will be posted if they are on-topic and not abusive.
For more information, please see our Comments FAQ