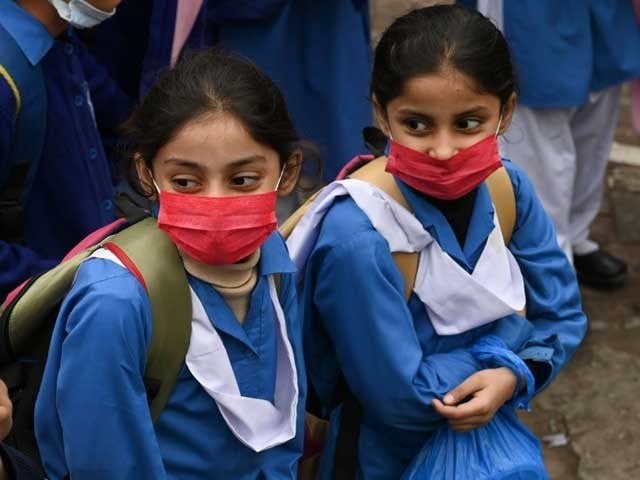 ---
Sindh announces resumption of classes for grades 6 to 8 from tomorrow
Businesses and commercial activities to now stay closed for one day during the week
---
KARACHI:
The Sindh government on Monday announced the resumption of classes for grades six to eight ifrom tomorrow (Tuesday) following a decline in Covid-19 cases, while the primary classes may resume from June 21.
The decision was taken during a meeting of the provincial Covid-19 taskforce today, with Chief Minister Sindh Murad Ali Shah in the chair.
The attendees mulled the overall situation of the pandemic and the process of vaccinations at length. The meeting was apprised that so far, 30,359,98 doses of the vaccine have been received, of which 24,664,58 have been administered to the population.
Murad observed that the Covid positivity ratio in SIndh has declined to 4.5 per cent, while hospitals have also witnessed a drop in Covid-19 patient admissions.
He added that the positivity ratio was 9.5 and 5.65 per cent in Karachi and Hyderabad, respectively. In Karachi, the ratio in district East stands at 12 per cent, while in district South, at nine per cent.
Read Sindh makes vaccinations mandatory for traders, extends business hours till 8pm
Business hours
The chief minister also announced a reduction in mandatory closed days for markets, saying only Sunday would not be observed as a closed day. However, he said that the provincial government would order business and commercial activity to be shut down if directed by the National Command and Operation Center (NCOC).
'Certificate without vaccine'
Taking notice of reports about the issuance of certificate sans vaccination at the Expo Center, Murad ordered IG Sindh and the home ministry to take strict action against those responsible.
He also directed the IG to make vaccination mandatory for those acquiring new driving licenses.
Vaccination for school staff
Meanwhile, provincial minister Saeed Ghani said it will be mandatory for the school staff in the province to receive anti-Covid jabs.
سندھ کرونا ٹاسک فورس کے اجلاس میں چھٹی سے آٹھویں جماعت تک کی کلاسز کل بروز منگل 15 جون سے %50 حاضری کیساتھ کھولنے کا فیصلہ کیا گیا ہے اور کرونا کی صورتحال میں مزید بہتری آنے کی صورت میں پرائمری کلاسز 21 جون سے شروع کردی جائینگی۔ اسکولوں کے سارے عملے کو vaccinated ہونا لازمی ہوگا

— Senator Saeed Ghani (@SaeedGhani1) June 14, 2021
Last week, according to a statement issued by the CM's House, 608 new cases were diagnosed when 11,458 tests were conducted.