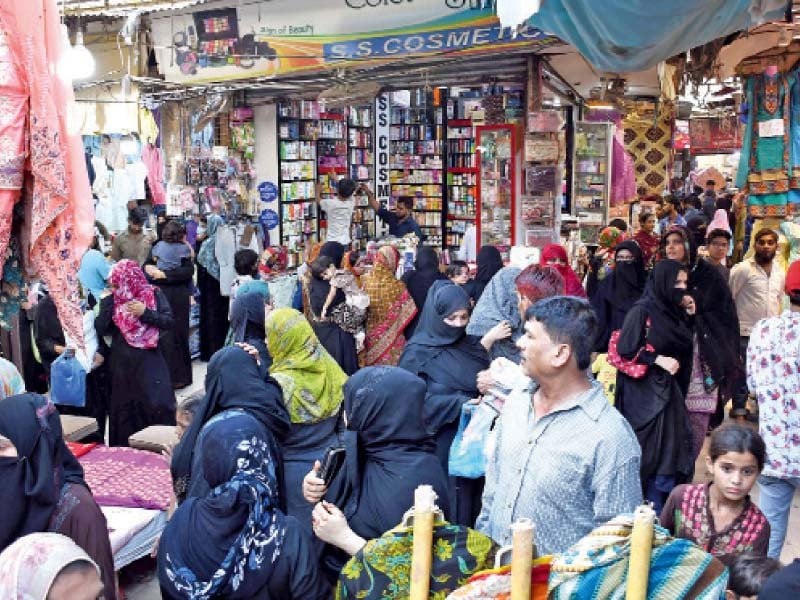 ---
Sindh makes vaccinations mandatory for traders, extends business hours till 8pm
Classes 9, above to resume tomorrow; wedding ceremonies, gatherings to be allowed after two weeks
---
KARACHI:
The Sindh government announced extending business hours till 8pm from Monday (June 7), saying all shops will have to maintain a vaccination certificate of the staff.
"It will be mandatory upon all staff of shops to get vaccinated," said Sindh Chief Minister Murad Ali Shah following a meeting of the Corona taskforce today (Sunday).
Murad added that the vaccination certificates of the staff will be checked after a fortnight from today.
The meeting also decided to open educational institutions for classes 9 and above, while agreeing to reopen wedding halls and resuming outdoor gatherings two weeks from now.
سندھ کرونا ٹاسک فورس نے کل 7 جون سے سندھ کے تعلیمی اداروں کو نویں اور اوپر کی جماعتوں کیلئے سخت SOPs اور پچاس فیصد حاضری کے ساتھ کھولنے کا فیصلہ کیا ہے۔ تمام عملے کو کورونا ویکسین لگوانی ہوگی۔ https://t.co/hE0AyBvrLE

— Senator Saeed Ghani (@SaeedGhani1) June 6, 2021
Provincial minister for education Saeed Ghani stated in a tweet that all schools' staff will have to get vaccinated against the virus.
According to the directives, "Outdoor dining will be allowed until 12 midnight with social distancing."
For restaurants only dine out facility has been allowed & dine in facility will still be prohibited. Everyone is requested to follow SOPs, wear masks & get vaccinated to counter the spread of #COVID19 https://t.co/uHpHRVhjOn

— Murtaza Wahab Siddiqui (@murtazawahab1) June 6, 2021
It was further decided at the meeting that sea view and other beaches will be reopened while salons will be allowed to operate with adherence to the Covid SOPs.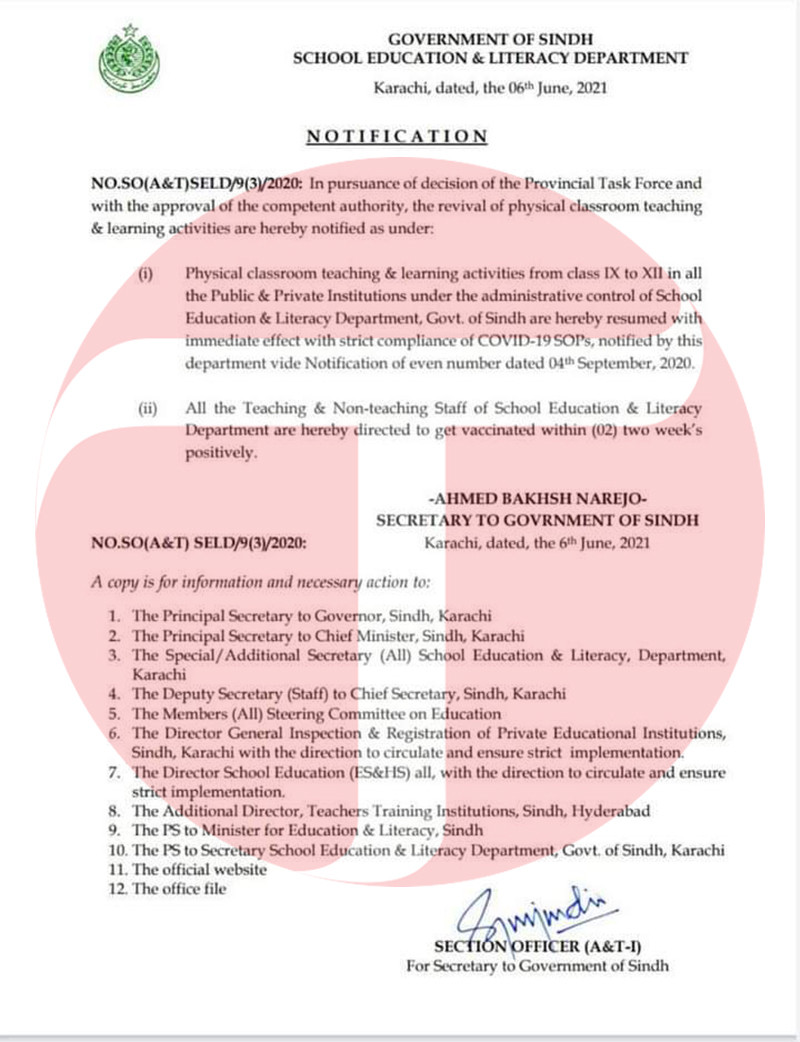 Covid positivity ratio
The meeting was apprised that the Covid positivity ratio in Sindh was 12.45 on June 1, decreasing to 8.5 per cent on June 5.
The ratio was 18 per cent in Karachi East, 11 in West and 10 per cent in Malir and district South.
Read Sindh Covid restrictions to remain in place amid surge in cases
he meeting was further informed that the positivity ratio was 11.06 per cent in Hyderabad on June 5.
As of now, the participants were apprised that there were 79 Covid patients on ventilators in Karachi and two in Nawabshah.
On the occasion, the CM directed the provincial health ministry to vaccinate 19 million people in the next three months.
On June 3, Sindh Health Minister Dr Azra Pechuho said the provincial government was making all-out efforts to ensure that students don't get infected with the novel coronavirus in schools.
"We have not yet taken a decision regarding reopening of schools in the province and the vaccination drive has been sped up to inoculate teachers and school employees on priority," she said while addressing a news conference in Karachi.
She said the health ministry in coordination with the education ministry is formulating a strategy to vaccinate all teachers and other staff members of schools across the province to ensure that no student could get infected with the virus when schools reopen.
The staffers working at Sindh's privately-owned schools were directed to get vaccinated within a week's time in view of fresh directives from the provincial authorities.