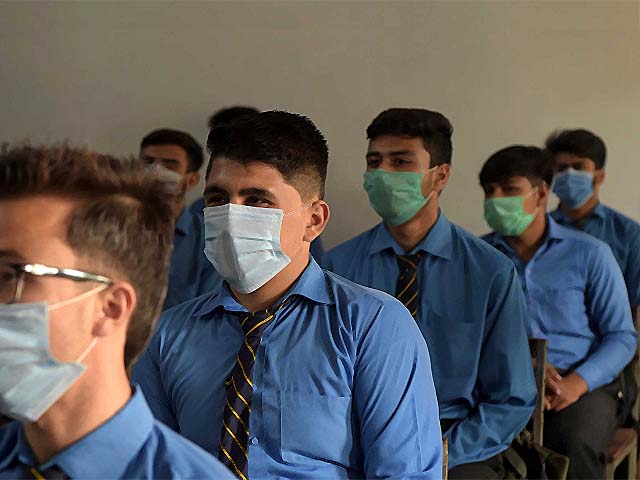 ---
Sindh not to reopen schools 'until keeping coronavirus at bay'
Health Minister Azra says no decision has been taken yet regarding reopening of schools in the province
---
KARACHI:
Sindh Health Minister Dr Azra Pechuho has said the provincial government is making all-out efforts to ensure that students don't get infected with the novel coronavirus in schools.
"We have not yet taken a decision regarding reopening of schools in the province and the vaccination drive has been sped up to inoculate teachers and school employees on priority," she said while addressing a news conference in Karachi on Thursday.
She said the health ministry in coordination with the education ministry is formulating a strategy to vaccinate all teachers and other staff members of schools across the province to ensure that no student could get infected with the virus when schools reopen.
The staffers working at Sindh's privately-owned schools were directed on Tuesday to get vaccinated within a week's time in view of fresh directives from the provincial authorities.
"As per [the] directives issued by the government of Sindh, the staff working (teaching and non-teaching) in privately managed schools in Sindh are hereby directed to get themselves vaccinated within a week's time through sending SMS to 1166," read the notification released by the directorate today.
Also read: Sindh govt to suspend salaries of officials not inoculated against Covid-19
"The employees who have already gotten vaccinated should provide a copy of vaccination card to their respective heads of the institutions," it added.
On May 29, the National Command and Operations Centre (NCOC) made Covid-19 vaccination mandatory for educational staff in order to ensure the safe continuation of the education sector.
Speaking about the Covid restrictions on commercial and other activities, the provincial health minister said decisions are made on scientific bases and not on the whims of the people.
She said Sindh task force on coronavirus will decide about relaxing coronavirus restrictions in the province considering the infection positivity rate.
"The coronavirus positivity ratio in Karachi is still above 11%," Dr Azra said, adding that the coronavirus situation could only be improved when a large number of people vaccinated against the disease.
She said the government is also planning to launch mobile vaccination and home vaccine service across the province to boost the inoculation drive.
Meanwhile, Sindh reported at least 937 new coronavirus cases during the past 24 hours, taking the tally to 321,408.
According to Chief Minister Murad Ali Shah, 16 more patients succumbed to the deadly virus as the toll surged to 5,089.
He further said that 1,361 patients recovered overnight, taking the total to 292,001.