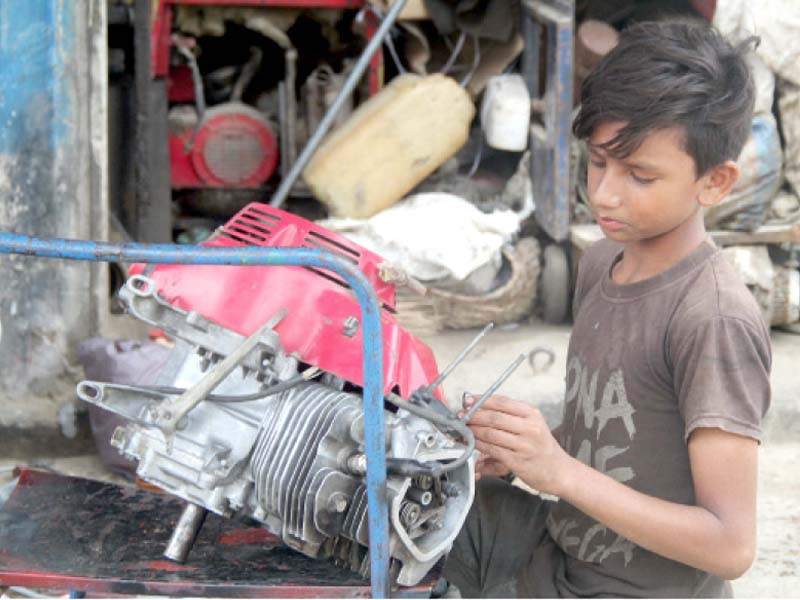 ---
KARACHI:
Child labour is a form of modern-day slavery, which should be abolished, said participants of a consultative session held to raise awareness about the issue.
Besides domestic child labour, the provincial government should take steps to abolish any form of child labour in Sindh, they said at the session organisied by Society for the Protection of the Rights of the Child (SPARC) to mark World Day Against Child Labour at a local hotel on Saturday.
Sindh Assembly PTI MPA Sidra Imran reminded that Sindh has enacted Sindh Prohibition of Employment of Children Bill, 2017 which was collectively supported by all lawmakers beyond any political scoring.
MQM MPA Mangala Sharma said that immediate action is required by the government to increase the age of adulthood and employment to 18 years in all legislations and outlaw child domestic labour as a modern form of slavery.
Sindh Child Protection Authority (SCPA) Chairperson Shamim Mumtaz said child labour is one of the major issues related to child protection not only in Pakistan but every under developing countries. The Child Protection Helpline is active so if any case come across related to child labor complaint may register there and it will be responded to accordingly.
Labour Department Secretary Abdul Rasheed Solangi said the department is developing a sustainable policy to eradicate child labour. Labour Department DG Bux Ali Meher said: "We are in process of compiling data and other statistics regards to child labour with technical assistance from the civil society organizations."
Pakistan Institute of Labour Education and Research (PILER) Executive Director Karamat Ali said despite legislation, child labour has increased in the province due to weak and conflicting nature of the available laws and policies. He mentioned without a uniform age for 'definition of child' in all the laws, child labour can't be ended.
Shumaila Muzammil and other child rights experts present at the occasion mentioned that Pakistan already has the second largest population of out-of-school children in the world and the Covid-19 pandemic has forced hundreds of thousands of others to drop out and join work force. According to experts, the financial implications of Covid-19 will also include child marriages and trafficking for commercial and sexual exploitation.
Advocacy Manager Muhammad Kashif Mirza said that there is no concrete data available in the country on Child Labour but it is estimated to be around 12 million.
Published in The Express Tribune, June 13h, 2021.
COMMENTS
Comments are moderated and generally will be posted if they are on-topic and not abusive.
For more information, please see our Comments FAQ