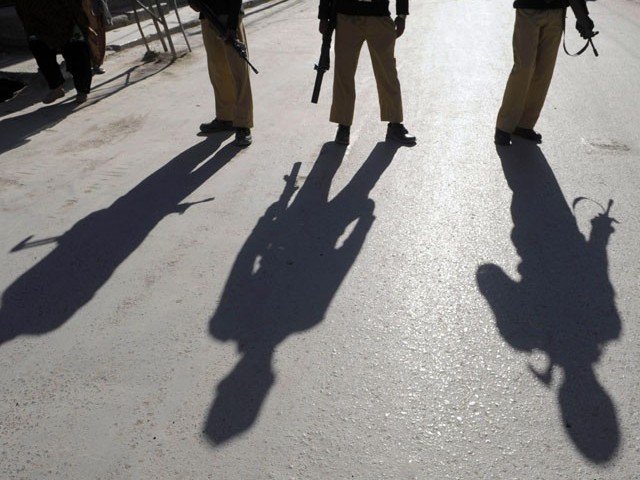 ---
KARACHI:
A police constable and a suspected robber were shot dead during an alleged police encounter near Bundu Khan Hotel, Super Highway on Saturday.
The deceased constable and suspect were shifted to Jinnah Postgraduate Medical Centre for medico-legal formalities, where the former was identified as Constable Shabbir Ahmed Shah, 50, while the identity of the suspect was yet to be ascertained till the filing of this report.
According to Gulshan SP Maroof Usman, the police party in a mobile van and a motorcycle present near Jamali Bridge were informed about some robbers trying to rob the citizens at gunpoint.
The cops riding the motorcycle arrived on the site of reported robbery and engaged in an exchange of fire with the suspected robbers, said the SP, adding that one of the bullet fired by the suspects hit Shah in his chest and caused his death on the spot, while the suspects fled the scene.
He said that the rest of the police party arrived and launched the search of suspects by cordoning off the area. "The police finally came across the suspects once again near Madina Colony, killing one of the suspects in another cross fire," said SP Usman.
However, the other suspect managed to escape this time again. The police seized the stolen items from deceased suspect's possession and launched the process to identify him through biometric system.
Later, Shabbir was sent to Naushera for burial, following a funeral in Isha prayer at Special Security Unit headquarters, Civic Centre. Large number of police high-ups, cops and relatives attended the funeral prayer.
Published in The Express Tribune, June 13h, 2021.
COMMENTS
Comments are moderated and generally will be posted if they are on-topic and not abusive.
For more information, please see our Comments FAQ