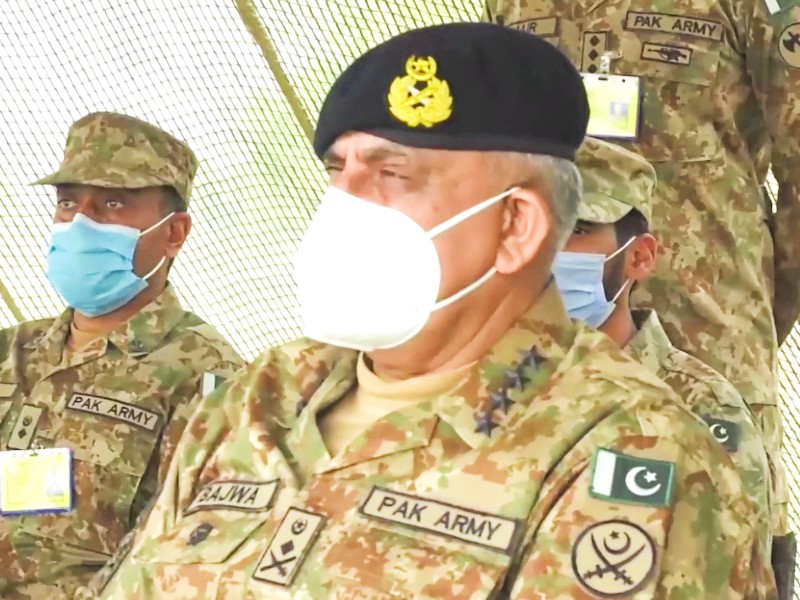 ---
ISLAMABAD:
The federal government on Friday proposed a 6.3% increase in the defence budget as the country faces multiple internal and external challenges including tense ties with India and a possible negative fallout of the US troops' withdrawal from Afghanistan.
The budget document shows that defence outlay for 2021-22 would be Rs1.37 trillion against Rs1.28 trillion earmarked in the ongoing fiscal year.
The defence spending is 16% of the total outlay of the budget.
A closer look reveals that the sum of Rs1.37 trillion does not include the amount of Rs360 billion allocated for the pensions of retired military personnel and Rs340 billion for the Armed Forces Development Programme.
Read: Budget sets sight on growth
Of the Rs1.37 trillion, Rs481 billion have been allocated for employees-related expenses, Rs327 billion for operational expenditure, Rs391 billion for domestic purchase and import of arms and ammunition and Rs170 billion for civil works.
Interestingly, all three services --- the army, navy and air force-- were given an equal increase of 6.3% in the budget, although the army takes the major share given its size and role.
Islamabad's defence spending of almost 2.8% of GDP is attributed to the continued rivalry with New Delhi because of the longstanding issue of Indian Illegally Occupied Jammu and Kashmir (IIOJK).
The size of the Indian defence budget, however, is four times higher than that of Pakistan.
Between 2014 and 2019, India's defence budget jacked up from $51 billion to $71 billion, while Pakistan's defence spending remained static keeping in view the rising inflation and depreciation of rupee.
In its annual report, the Stockholm International Peace Research Institute (Sipri) said India had the world's third biggest military budget -- only behind the US and China.
On average, Pakistan spends $12,500 on each soldier, India $42,000, Saudi Arabia $371,000 while the US allocates $392,000 per soldier every year.
The difference, however, between Pakistan and other countries is that the size of their economies is far bigger than that of Islamabad.
Defence spending has always been the subject of discussions with some seeking greater transparency and open debate about the military budget.
In recent years, the government has provided more details about the defence budget.
Read more: NA speaker sees no difficulties in passage of budget
However, there has never been an open debate in parliament on the subject.
Observers believe that the increase in the defence budget is justified given the impending external and internal security challenges.
The major challenge Pakistan may have to deal with includes the negative fallout of the US troops' withdrawal from Afghanistan.
Any unrest or civil war in Afghanistan may force Pakistan to deploy its additional military assets along the Afghan border to prevent the spillover impact of chaos in the neighbouring country.
Similarly, the tensions between Pakistan and India still persist, although the restoration of ceasefire has brought some respite.