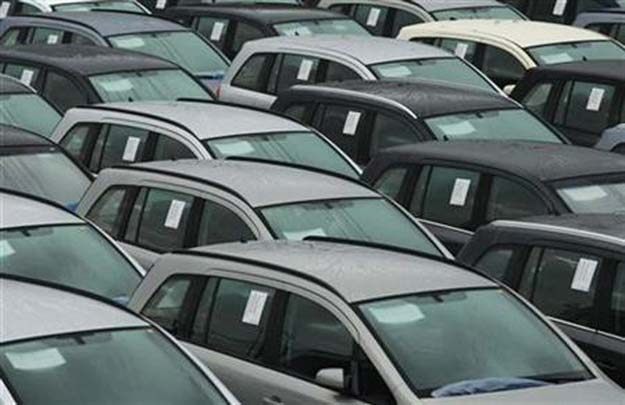 ---
KARACHI:
Keeping in view that the prices of locally produced automobiles have soared past the affordability of a common man, the government announced a handful of initiatives for the automobile sector in budget 2021-22 aimed at curbing car prices.
While unveiling the federal budget on Friday, Finance Minister Shaukat Tarin announced tax exemptions for cars having an engine capacity of 850cc.
"Rising car prices in the country have irked the common man hence federal excise duty and value added tax on locally produced cars, having engine capacities of up to 850cc, have been abolished," said Tarin.
In addition, the government also decreased the sales tax rate on such cars from 17% to 12.5%.
He was of the view that these measures would enable people from the lower and middle class to buy their own automobiles.
"The automobile sector contributes immensely to the development of the country and the national treasury besides providing employment to millions of people," he said.
Read: Paradigm shift in Pakistan's auto industry
Despite being a relatively smaller segment, the automobile sector of the country has recorded rapid growth over the past few years, said the finance minister.
To lend support to this sector, the government has decided to exempt completely built up (CBU) units of cars of up to 850cc from customs duty and regulatory duty.
Moreover, vehicle manufacturers will also be exempted from advance customs duty as the government moves to streamline the tariff structure.
"These are excellent incentives and they will surely benefit customers," said Pak Suzuki Motor Company official spokesperson Shafiq Ahmed Shaikh in comments to the Express Tribune. "We appreciate the government for announcing incentives for the consumers of the automobile sector."
Automobile sector expert Mashhood Khan said that minimising the cost of doing business was the main challenge for an auto part manufacturer (APM).
Reduction in sales tax on cars of engine capacities of 850cc and below will improve demand and enhance capacity utilisation of APMs, he said. This initiative in particular will generate jobs in the auto sector, he added.
Arif Habib Limited analyst Arsalan Hanif termed the budget materially positive for the automobile sector as the government decreased sales tax from 17% to 12.5% and abolished 2.5% federal excise duty (FED) on cars of lower engine capacity.
To support new players and loss making companies, the government has also reduced turnover tax from 1.5% to 1.25%.
Read more: Pakistan's auto sector: growth comes at a high cost
Electric vehicles
During the budget speech, Tarin also announced measures for electric vehicles, saying that the government was encouraging the use and manufacturing of electric vehicles to reduce dependence on petrol, provide affordable transport to the general public and mitigate the environmental impact.
To accomplish these goals, massive tax relief measures were announced for electric vehicles including tax exemption on import of completely knocked down (CKD) kits for local manufacturing of electric vehicles.
Moreover, the rate of sales tax on locally manufactured electric vehicles was brought down from 17% to 1% in addition to elimination of value added tax on imported electric cars. The government also waived federal excise duty on electric vehicles.
Hanif highlighted that tax reduction and exemption on electric vehicles will promote a fuel efficient and greener economy.