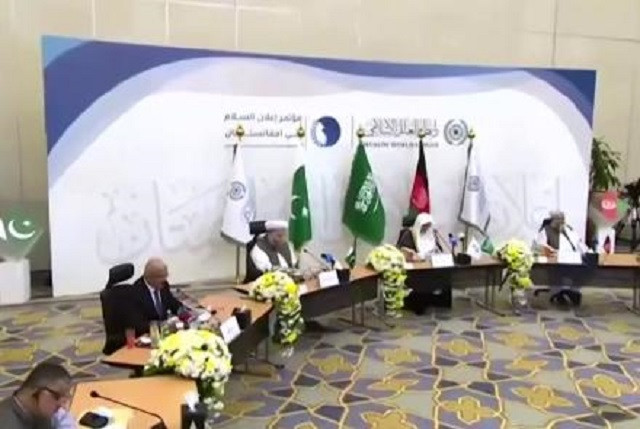 ---
MAKKAH:
Religious scholars from Pakistan, Saudi Arabia and Afghanistan called for an early end to the ongoing Afghan war, urging the warring groups in the country to resolve differences through talks.
The statement came as the scholars gathered in Makkah on Thursday, under the framework of Muslim World League (MWL), to deliberate on the war ongoing in Aafghanistan, Tolo News reported.
The event was termed "historic, landmark event on the path toward reconciliation between warring factions, in an effort to end the fighting and bring peace," Arab News quoted an official announcement as saying.
The virtual meeting bringing the three countries together was hosted by the Saudi government.
Addressing the attendees, Pakistani scholars said that peace in Afghanistan was in the interest of the entire region.
Read Thousands of Afghans flee homes as fighting erupts after US pullout
"The government, people and scholars of Pakistan want to see peace in Afghanistan," said Minister for Religious Affairs and Interfaith Harmony Noorul Haq Qadri.
"We hope that Saudi Arabia continues its cooperation with us until there is peace in Afghanistan," he added.
Pakistani cleric Iftikhar Hussain Naqvi endorsed the minister's opinion, saying, "Peace is quite important for Afghanistan. Pakistan wants peace in Afghanistan. There is an opportunity for political stability in Afghanistan."
Furthermore, Ambassador to Saudi Arabia Lt-Gen (retd) Bilal Akbar stressed that there was no military solution to the conflict in Afghanistan.
According to the scholars in Afghanistan, the war being waged by the Taliban had no justification and couldn't be called jihad.
Emphasising that Islam taught tolerance and peace, they urged the Afghan government and Taliban to resolve their differences through talks.
Read more US sends more reinforcements for Afghan pullout
"We should stop the explosions and the suicide attacks which make victims of our children, scholars and others in the country. Our opponents are also our Muslim brothers. But we do not act like them and do not brand them infidels," said Afghan Minister for Religious Affairs and Pilgrimage Mohammad Qasim Halimi.
"Muslims are being killed inside mosques, children are being killed during birth, attacks are launched on universities and hospitals," he added.
According to the organisers, the conference had been envisaged with the view to utilise the MWL's role in resolving conflicts within the Muslim world, with the support of Saudi Arabia.
They hoped that the conference "will reflect MWL's sense of historic responsibility as a representative of all Muslims, and its desire to achieve unity, solidarity and harmony, the security of its societies, and the safety of its citizens."
Those who attended the event included Ahmed Javed Mujadidi, the ambassador of Afghanistan to Saudi Arabia, Rizwan Saeed Sheikh, Pakistan's permanent representative to the Organization of Islamic Cooperation (OIC), and Shafiq Samim, Afghanistan's permanent representative to the OIC.