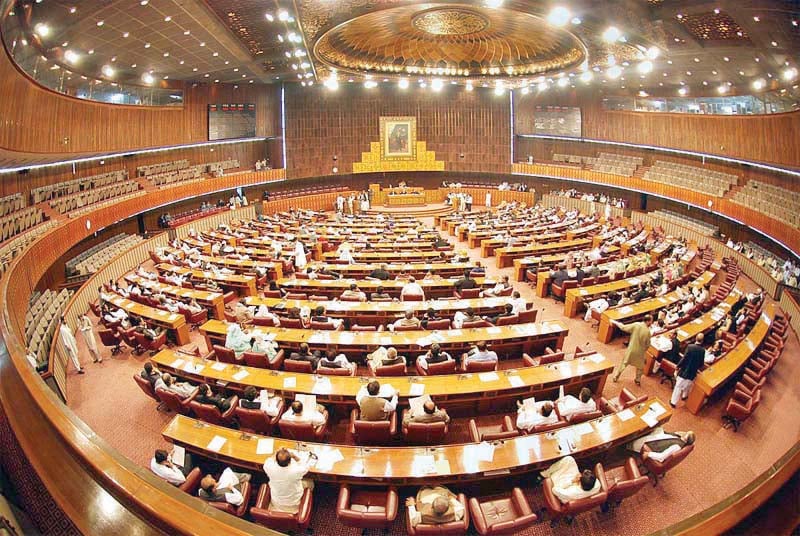 ---
ISLAMABAD:
The Pakistan Tehreek-i-Insaf-led (PTI) government is laying the groundwork ahead of an important legislation in the National Assembly by taking its allies into confidence, it was learnt on Thursday.
The session, chaired by Speaker Asad Qaiser, will be convened today after a one-day break to present government's 80-point agenda.
Sources said the government is seeking to grapple with several important legislations succinctly outlined in the agenda, including controversial electoral reforms.
The agenda will unveil a series of laws, reforms and the Election Act 2017 as part of its electoral reform agenda in order to ensure free, fair and transparent elections in the future and end the controversy and allegations of rigging forever.
Read NA passes laws on electoral reforms, Jadhav
In order to head off the protests from the opposition benches, the government has urged its members to ensure early and full attendance of the session as the federal government continues to face hardship to woo the Opposition in legislative matters, including electoral reforms and passing the federal budget 2021-22 next month.
The agenda is also expected to address a notice by the Pakistan Peoples Party (PPP) to draw attention to the federal cabinet's decision to approve the 2017 census results without taking the Sindh government into confidence.
PPP had rejected government's census results on the basis of a UNICEF survey according to which the average members of a household were at 7.2 for Sindh, whereas the census results put the number of the average household at 5.64.
A notice to draw attention to the public transport on the motorway is also on the agenda, the sources added.
COMMENTS
Comments are moderated and generally will be posted if they are on-topic and not abusive.
For more information, please see our Comments FAQ