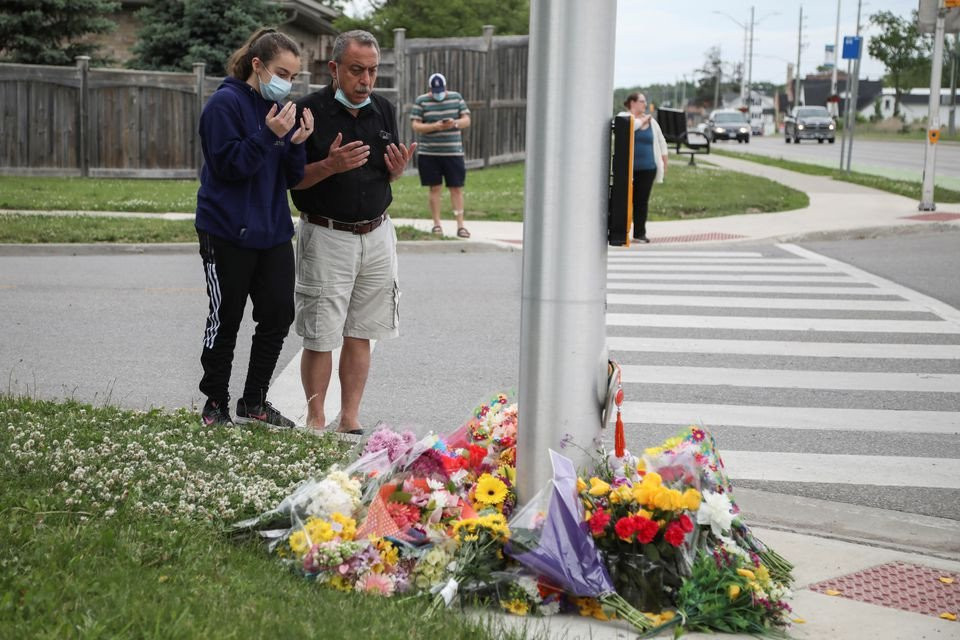 ---
A person claiming to be a relative of the Afzaal family – who was recently targeted in a terrorist attack in London, Ontario in Canada – has asked the media not to use private pictures of the family.
In a post on Facebook, he said that the pictures have been used on mainstream and social media without the approval and consent of the family.
"We have been constantly requesting different social media pages not to use the picture in which my aunt (Madiha Salman, the 9-year-old boy's mother) is not wearing her headscarf and it isn't an accurate representation of who was killed in the attack," he added.
Also read 'Islamophobia being mainstreamed in Europe'
The post said that the family does not know how the picture was leaked, but it was supposed to be a private picture, not to be used by the media. "A lot of pages have accepted our request but now it's on the bigger news channels."
He claimed that the TV channels are not responding to the messages or comments, instead, they're deleting them. "The other family picture, in which they're all standing, has been authorised to be used but only if they crop the 9-year-old boy out of it or blur his face since we want to respect his privacy at this moment," he added.
The incident
On Sunday, a Canadian Muslim family of Pakistani origin lost three of its generations after it was targeted in a "religiously-motivated" attack when a pick-up truck ran over them in the south of Canada's Ontario province while they were waiting on the sidewalk to cross the road.
The police said a man accused of killing the family targeted them in an attack motivated by hate.
"There is evidence that this was a planned, premeditated act, motivated by hate," Detective Superintendent Paul Waight of the London police department told reporters.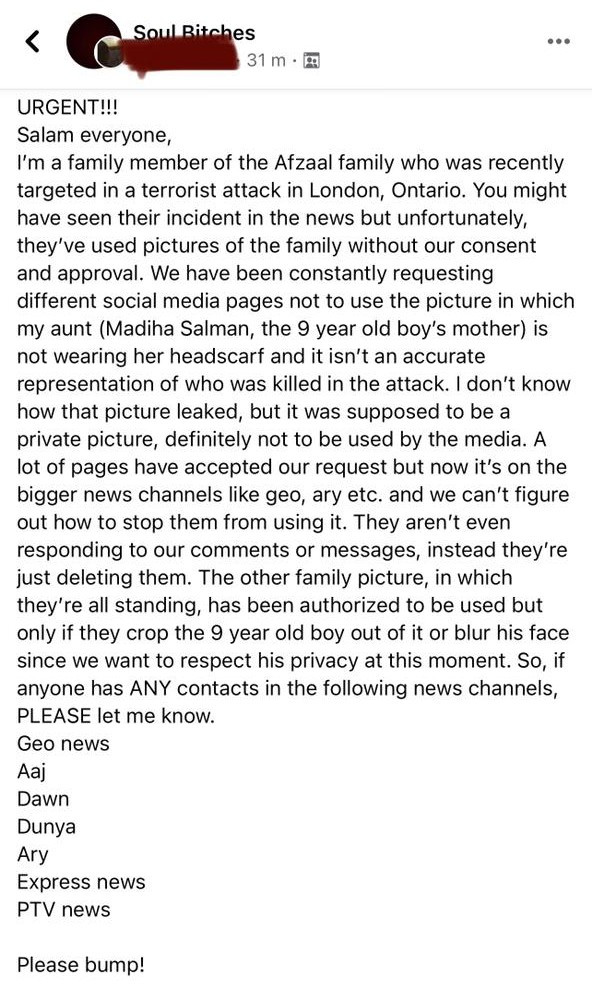 "We believe the victims were targeted because of their Islamic faith," Waight said.
He added that the police in London - 200km southwest of Toronto - were consulting with the Royal Canadian Mounted Police and prosecutors about potentially filing terrorism charges.
The four family members killed were Salman Afzaal, 46, his wife Madiha Salman, 44, their 15-year-old daughter Yumnah Afzaal and Afzaal's 74-year-old mother whose name has not yet been released. Their nine-year-old son, Fayez Afzaal, is in hospital with serious but non-life-threatening injuries.
The family immigrated from Pakistan about 14 years ago, according to media reports.
Canadian Prime Minister Justin Trudeau described the incident as a "terrorist attack".
Speaking in the House of Commons on Tuesday, he called the attack "a brutal, cowardly, and brazen act of violence".
"This was no accident," he said. "This was a terrorist attack, motivated by hatred, in the heart of one of our communities."
Trudeau said he had spoken with London Mayor Ed Holder about how to keep Muslim communities safe across the country.
Expressing grief over the killings, Prime Minister Imran Khan called the attack "condemnable act of terrorism".
"Saddened to learn of the killing of a Muslim Pakistani-origin Canadian family in London, Ontario," PM Imran said in a tweet.
"Islamophobia needs to be countered holistically by the international community," he added.
"This condemnable act of terrorism reveals the growing Islamophobia in Western countries."
Saddened to learn of the killing of a Muslim Pakistani-origin Canadian family in London, Ontario. This condemnable act of terrorism reveals the growing Islamophobia in Western countries. Islamophonia needs to be countered holistically by the international community.

— Imran Khan (@ImranKhanPTI) June 8, 2021