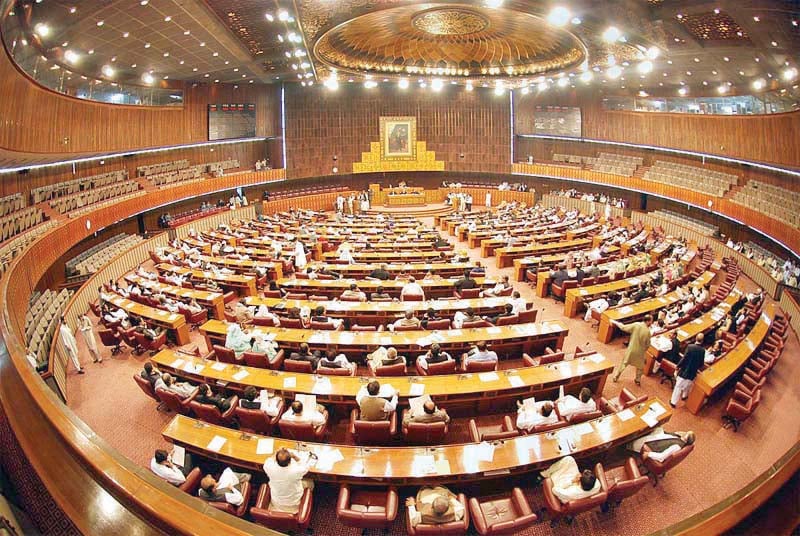 ---
ISLAMABAD:
The National Assembly's (NA) Standing Committee on Parliamentary Affairs on Monday witnessed a row when the panel discussed that an unelected adviser or special assistant to the premier (SAPM) did not have any authority to present a bill in the lower house.
The opposition has time and again said that unlike ministers, PM's aides are not part of the federal governm¬ent as they do not take oath and are not answerable to parliament in terms of Article 91(6) of the Constitution.
They further maintained that the advisers and SAPMs are not subject to the qualification and disqualification provided under Articles 62 and 63 of the Constitution and are not bound to submit their statement of assets and liabilities before and after their appointment, therefore, they are not subject to any kind of scrutiny.
Currently, the Cabinet Division has four advisers and 15 SAPMs.
The NA committee, which met under the chairmanship of Mujahid Ali was supposed to mull over the Elections (Amendment) Bill 2020. However, the meeting discussed the presentation of bill by the premier's adviser in the House.
Committee member Mahmood Bashir Virk observed that the Rules of Business authorized a minister and not an adviser to present a bill.
He further said that it was mentioned in the Constitution that a minister had the power to present the bill and that Article 57 did not allow an adviser to do so.
State Minister for Parliamentary Affairs Ali Muhammad Khan pointed out that an adviser was appointed in accordance with Article 93.
The parliamentary secretary said that the positions of both the minister and adviser were constitutional and the purpose of introducing amendments was to ensure transparency in the election process. Khan said the NA speaker had issued a ruling on this matter.
Committee member Maulana Abdul Akbar Chitrali questioned how was the ruling given on this issue. He asked whether the committee had summoned the speaker or the subject was debated in the House. He sought the bill to be presented in the assembly.
COMMENTS
Comments are moderated and generally will be posted if they are on-topic and not abusive.
For more information, please see our Comments FAQ