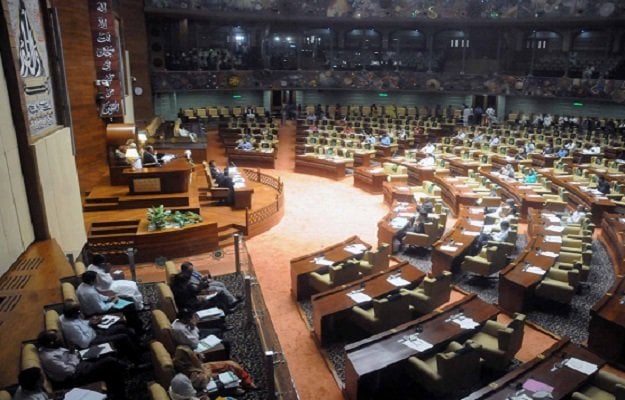 ---
KARACHI:
There was chaos in the Sindh Assembly yet again on Monday for the fourth consecutive sitting.
At the outset of the session, Opposition Leader Haleem Adil Sheikh and Muhammad Hussain of the Muttahida Quami Movement-Pakistan (MQM-P) moved a joint resolution requesting time to speak on the recent protest against Bahria Town Karachi (BTK).
Much to their chagrin, Speaker Agha Siraj Durrani refused to take up the resolution and did not permit them to speak on the point of order.
"For the last four days, you're not giving us time. We want to speak on an important issue," objected Hussain, adding that opposition lawmakers wished to speak on the violence that broke out during the protest.
Seconding him, Haleem insisted that this matter was more pressing than other issues.
The speaker's remarks prompted protest from the MQM-P and Pakistan Tehreek-e-Insaf (PTI) lawmakers, who marched up to Durrani's podium and shouted slogans.
It was after the protesting lawmakers staged a walkout that the treasury bench that the treasury benches took up discussion on the attack on BTK.
Sindh Information Minister Nasir Hussain Shah said that the PPP believes in the federation and that the party has sacrificed lives for the country. The people of Sindh have made Pakistan, he said, adding that those who shouted anti-Pakistan slogans have been arrested.
Amendment to police act
Meanwhile, the house passed a law to appoint the heirs of the police officers and personnel, who were martyred or rendered invalid due to any injury incurred in the line of duty.
According to the bill moved by the Chawla, the law is meant to compensate and provide relief to families of such cops by providing them employment. The heirs will be eligible for government posts ranking from Grade I to Grade XI.
The protesting lawmakers rejoined the session after the bill was passed and continued their protest inside the house. Amid the chaos, the speaker adjourned the session.
Published in The Express Tribune, June 8th, 2021.
COMMENTS
Comments are moderated and generally will be posted if they are on-topic and not abusive.
For more information, please see our Comments FAQ