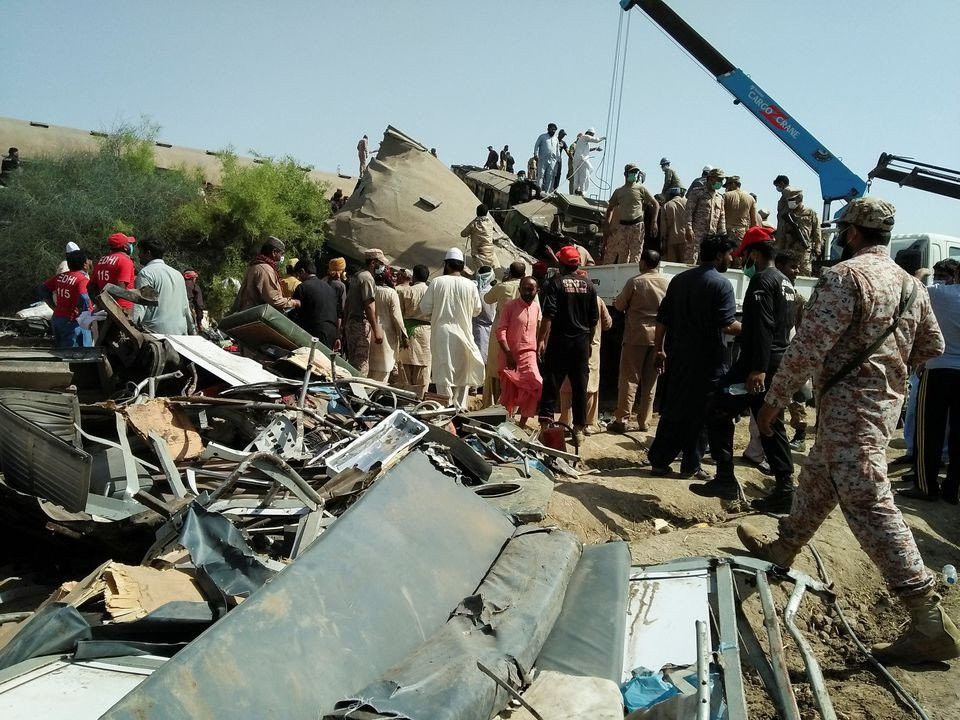 ---
ISLAMABAD:
The collision between two passenger express trains in Sindh's Ghotki district on Monday that left 40 dead and scores of people injured is a grim reminder of the country's decrepit railway infrastructure.
The worn-out railway track of the Pakistan Railways, which has been suffering from economic woes, has become a threat to human lives, particular for the common man who relies on the cheap and affordable transportation.
According to railway officials, 80 per cent of the dilapidated railway tracks were laid out more than 90 years ago, dating back to the last century.
Pakistan has a shoddy record in terms of train safety and passenger protocols as successive governments failed to pay attention to the erratic signal system and decaying railway tracks.
Records received by The Express Tribune reveal that 659 railway accidents have taken place in the last eight years, while the number of railway accidents has crossed 300 in the last three years of the present government, leaving 270 people dead and injuring more than 750 people.
A total of 39 people were killed in 131 train accidents that took place in 2018 alone.
Read more: Nearly 50 killed, over 100 injured as two passenger trains collide in Sindh's Ghotki district
In 2019, 134 died in 159 accidents, while in 2020, 137 accidents claimed the lives of 56 people. During the first five months of 2021, 41 people have been killed in 30 accidents.
A quick review of these incidents shows that an overwhelming loss of human life caused by rampant accidents could have been prevented with a much-needed upgrade and overhaul of railways.
July 3, 2020: Shah Hussain Express train rammed into a coaster near Sheikhupura in the Farooqabad area of Sheikhupura District, killing 22 people, including 20 Sikh pilgrims.
February 29, 2020: At least 19 people were killed and more than 30 others seriously injured after a bus travelling through an unmanned railway crossing was crushed by the Lahore-bound Pakistan Express train coming from Karachi.
Read more: Pakistan Railways to take action against ghost employees
March 6, 2021: One person was killed while another 29 were injured as Lahore-bound Karachi Express derailed near Pannu Aqil Taluka of Sukkur district.
October 31, 2019: 74 people died after a fire broke out in Tezgam Express – travelling from Karachi to Rawalpindi – after a gas canister reportedly exploded on board as the train was passing through Rahim Yar Khan.
The fire started after passengers started cooking on the train, and the resulting inferno destroyed three economy-class carriages of the train.
July 11, 2019: A Quetta-bound train collided with a cargo train near Sadiqabad in Punjab, killing 21 people and injuring over 100. The accident was caused by a delay in switching the train tracks.
June 20, 2019: Three people were killed when a passenger train collided with a stationary cargo train at Makli Shah, near Hyderabad.
December 18, 2018: Twelve children were injured as a passenger train crashed into a school van near Punjab's Narowal. Local witnesses said the accident took place owing to dense fog and because the gate at the crossing was left open.
September 16, 2018: Nine bogies of the Peshawar-bound Khushal Khan Khattak Express from Karachi derailed near Attock in which 20 passengers sustained injuries.
September 27, 2018: Six members of a family, including a woman and a child, died when a Lahore-bound train hit their car at an unmanned crossing from Gojra town.
November 3, 2016: Zakaria Express collided with the stationary Fareed Express in Landhi, killing 22 people.
September 15, 2016: Six people died and over 150 injured when Karachi-bound Awam Express collided with a train near Multan.
COMMENTS
Comments are moderated and generally will be posted if they are on-topic and not abusive.
For more information, please see our Comments FAQ