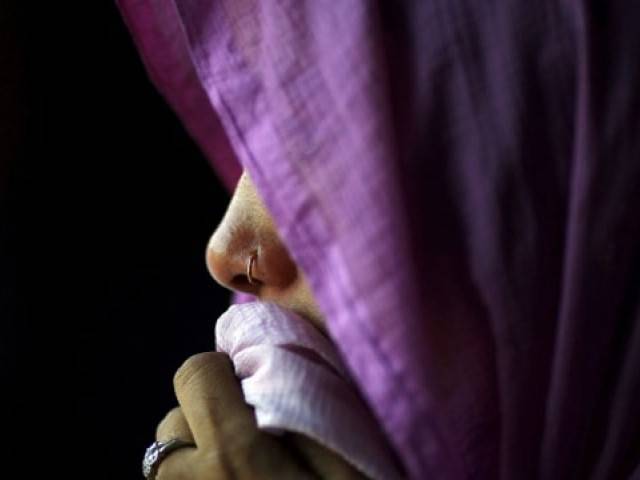 ---
LAHORE:
A young girl, who worked as domestic help, was reportedly attacked with acid over the refusal of a marriage proposal in Johar Town on Monday.
Police said 27-year-old M*, a permanent resident of Pakpattan had moved to Lahore for work. She had been staying in Feroziyanwala Johar Town and worked a few miles away in Chungi Amar Sadu as a maid.
On the day of the incident, she was on her way to work in the Sui Gas Society in Chungi Amar Sadhu. Reportedly, two suspects, one of them identified as Ahmad Liaquat, a resident of Depalpur, Okara intercepted her near Jagawar Chowk on a motorcycle. He approached her and forcefully insisted to drop her to at work. The victim refused the offer. The suspect carrying acid in a steel vessel poured on her face.
She suffered burns on her hands, face and neck. She informed her family who took her to Lahore Jinnah Hospital for treatment.
The victim M* told police that the suspect had been forcing her to marry him. However, she had refused. "'I will not leave you worthy of anything,' he had intimidated me," she told police.
The brother of the victim, Waqar told The Express Tribune that the suspects had been harassing his sister for quite some time. He said the suspect never approached the family for the marriage proposal.
Also read Three booked for throwing acid on woman
A case has been registered. Police said that they were investigating the matter.
Cases of acid attack are rampant in the city. In September 2019, a woman attacked with acid in Factory Area. She was 45-year-old and worked as a sanitary worker at an office. Reportedly, she had developed a relationship with a co-worker. When their relationship soured, the suspect attacked her with acid. She had received serious burn injuries.
According to a non-governmental organisation, Acid Survivors Foundation Pakistan (ASF), at least 1186 cases of acid throwing have been reported in Pakistan from 2007 to 2018 in which 1485 people fell victim. It claimed that the cases had dropped over 80% since 2014.
According to the organization, at least 83 attacks were reported in 2012 leaving 104 victims affected. In 2019, at least 109 cases were reported with 140 victims. In 2014, 153 cases of acid assault left 210 victims affected. In 2015, 101 victims were affected due to 69 attacks.
In 2016, a total of 73 cases in which 103 victims were injured were reported. In 2017, there were 39 acid attacks with 48 victims. In 2018, there were 57 attacks. At least 80 people had been left affected.
To curb it, Legislative Assemblies in Pakistan have passed various bills and taken measures.
National Assembly in 2011 had passed the Acid Control and Acid Crime Prevention Bill, 2011. The bill carried minimum punishment of the crime as 14 years imprisonment and maximum as life imprisonment. In 2018, the assembly passed the Acid and Burn Crime Bill, 2017. It stipulated free medical treatment and the case of the survivor.
A documentary "Saving Faces" raising the concerns surrounding the issue made by famous Sharmeen Obaid Chinoy had won Oscar Award.
Published in The Express Tribune, June 8th, 2021.