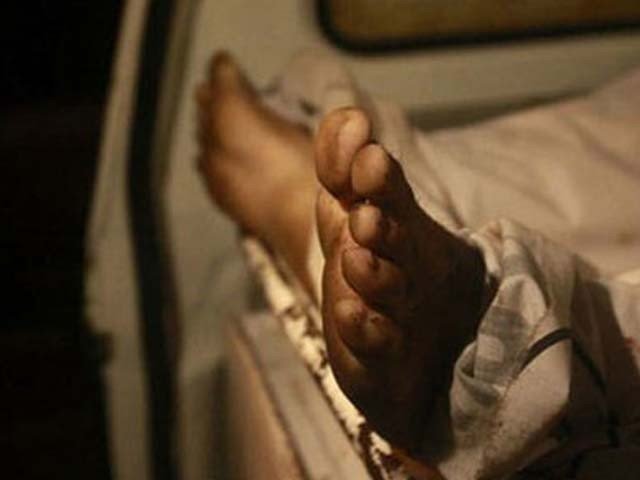 ---
CHAK JHUMRA:
Five members of a family have been booked for killing a youth who was severely tortured and later hospitalized allegedly when he went to meet a girl in Nishatabad area.
Samina Begum, mother of slain Asif Khurshid, has filed a case stating that her son used to work at a gift shop in Nishatabad area.
Samina said, "Farwa Bibi became friends with my son and both wanted to marry each other. Yesterday, my son went out to offer Fajr prayers. The suspects Mujeeb Ahsan, Muneeb Ahsan, Haseeb Ahsan along with his father Ghulam Hussain grabbed my son from the street and took him to his house, tortured him and called the police."
She added that her son was rushed to Allied Hospital with injuries, where he breathed his last. On the other hand, Ahsan had earlier filed a complaint stating that Asif entered his house and stole eight tolas of gold and Rs200,000 before he was caught on the spot and injured during a scuffle.
Millat Town police registered a case under Section 380 (Theft in house) of Pakistan Penal Code (PPC) and started investigation.
Police registered a case against the arrested girl Farwa, Ghulam Hussain, Mujeeb Ahsan, Muneeb Ahsan and Haseeb Ahsan under Sections 34 and 302 PPC.
However, the mobile phone record of the slain youth had shown that he had been in contact with the girl. The matter is being investigated and legal action will also be taken against those who have killed the youth, the SHO said.
Last month, a man lost his life after he allegedly jumped from the third floor of a building out of fear of being caught by his girlfriend's brother. He died in a hospital in Dijkot. Police said 22-year-old Hassan Farooq, a resident of Awami Colony, had gone to see the girl at her house. When the girl's brother arrived, Farooq jumped from the roof of the house.
Rescue 1122 personnel rushed him to a hospital, where he succumbed to his injuries. The relatives of the deceased took his body to their house without informing the police.
After the news was broadcast on the media, Jhang Bazaar police reached the spot, took the body into custody and handed it over to the heirs after completing legal formalities.
Jhang Bazaar SHO Amir Waheed said the family of the deceased did not want any legal action. Earlier in March, five men were arrested for thrashing a motorcycle mechanic. The victim was allegedly abducted and beaten up on the suspicion of harassing women. Zain Ali Shah, a resident of Canal Road, Chak No 204, reported that he was abducted on a motorcycle from his shop by Asghar Ali, Mithu Shani, Atiq and Haji. The suspects also made a video while they were torturing him. After the video came to the light, Madina Town police registered a case against five people including a man and his two sons and started raids to find them. The police said that 24-year old Zain Ali Shah, had set up a motorcycle mechanic's shop and was allegedly in contact with the daughter of one of the suspects.
COMMENTS
Comments are moderated and generally will be posted if they are on-topic and not abusive.
For more information, please see our Comments FAQ