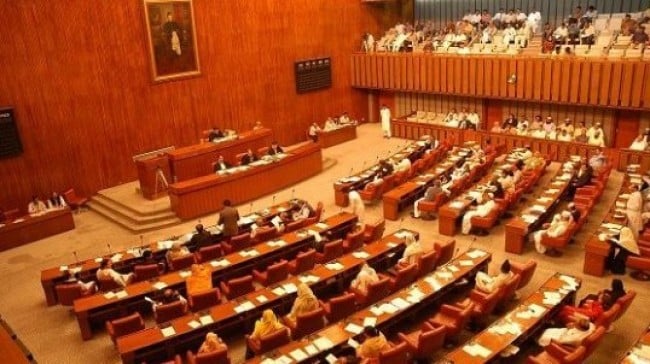 ---
ISLAMABAD:
The PTI-led government has succeeded in bagging the chairpersonship of crucial Senate committees.
The opposition parties, either due to internal differences among themselves or backchannel understanding, have been unable to head committees wherein they could have given a tough time to the government in the upper house.
The chairpersonship of the Senate Committee on Human Rights was first offered to the PPP. However, instead of retaining it, the PPP passed it on to the PML-N.
The PML-N nominated Senator Mushahid Hussain Syed as the chairman of the committee. However, he gave chairmanship to the government and became the head of the Standing Committee on Defence in return, a senator told The Express Tribune.
Earlier, PPP Senator Mustafa Nawaz Khokhar was the chairman of the Senate Committee on Human Rights since 2018.
Being the chairman, he took up several human rights issues including abduction of and attacks on journalists.
He even summoned officers in uniform for a briefing on a few matters including enforced disappearances.
Everyone appreciated his performance as the head of the human rights committee.
It has been learnt that Khokhar was no longer in the good books of the PPP leadership because of his statement wherein he questioned the party's decision to bag the support of Balochistan Awami Party (BAP) members for having elected Yousuf Raza Gilani as the opposition leader in Senate.
Read more: Senate passes CPEC Authority bill
Khokhar was of the view that the move had tarnished the PPP's image.
The government has already amended rules through the house and converted the functional committee on human rights into a standing committee, which has limited powers.
The standing committee can only take up matters related to the human rights ministry.
One PTI senator believes that the scope of Senate human rights committee should not be limited.
"In fact, it should be more vast as there are genuine human rights issues in the country, the senator added.
Political analysts also believe that the opposition should have retained the chairpersonship of the human rights committee.
Previously, opposition members were heading many key committees including those on law and justice, interior and human rights.
Senators belonging to the government will head these committees now.
PTI Senator Barrister Ali Zafar has been appointed the chairman of the law and justice committee.
Another government senator told The Express Tribune that the purpose of bagging the chairpersonship of this committee was to expedite legislative work which was halted for last three years.
Earlier, several government bills remained pending with the committee.
Zafar has already said his top priority would be to expedite the process of legislation.
The government is apparently taking advantage of the differences among opposition parties.
Opposition leader Gilani is a good and humble politician, but he is unable to evolve a strategy to give a tough time to the government in the upper house.