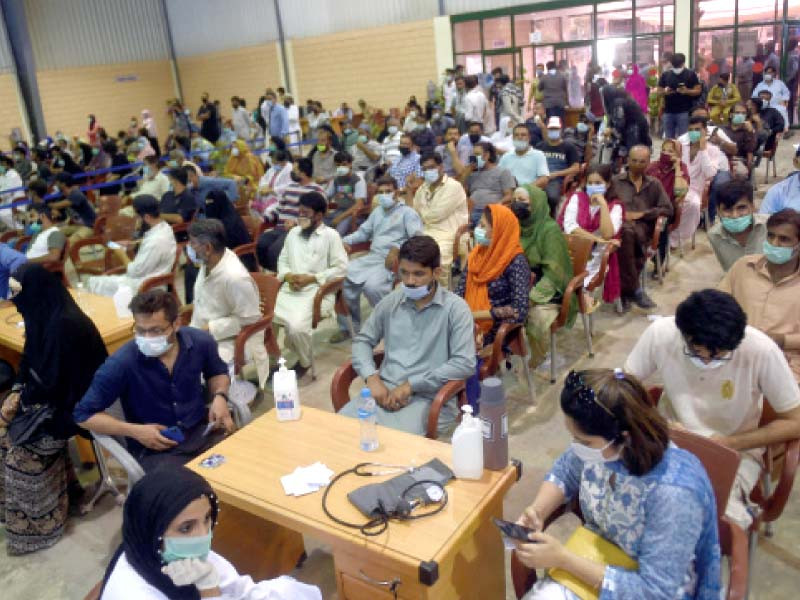 ---
KARACHI:
Sindh Chief Minister Syed Murad Ali Shah declared vaccination mandatory for all inhabitants of the province. He warned that the salaries of non-vaccinated government officials would be withheld.
"We have to secure our citizens by taking drastic measures," he said while presiding over a meeting of the Provincial Task Force on Coronavirus on Thursday at the CM House. He directed the health department to establish vaccination facilities in every nook and cranny of the province.
"I want at least 300 basic units to be declared as vaccination centres in rural areas with a target of vaccinating 30,000 people per day," he said. Shah, giving another target to the health department, said five mobile vaccination teams should be established on every taluka level.
"We have 605 talukas and they must vaccinate at least 60,000 people per day," he ordered. The CM also directed the health department to give a target of 10,000 vaccinations to 90 private hospitals which had already been allowed to vaccinate people.
He directed the health minister to register more private hospitals for vaccination. Taking a policy decision, Shah directed the chief secretary to give the month of June to all government,semi-government,local government employees to get vaccinated.
He said to hold the salaries of those officials who failed to get their jabs by the end of this month. Health Secretary Dr Kazim Jatoi, giving a report to the meeting, said over 1.5 million doses have been utilised, of which more than 1.12 million were first and 429,223 second.
On June 2, some 78,799 doses were administered all over Sindh, including 57,541 first and 21,258-second doses.
Indian variant
The meeting was told that on the evening of May 29, four cases of the Indian variant were identified in Sindh. The infected passengers had travel histories of Iraq and Oman. The health department identified their contacts and tests were being conducted. The patients had been isolated and further investigations were in progress.
Relaxing restrictions
Meanwhile, Sindh Minister for Education Saeed Ghani assured the business community that the government would not impose any further restrictions on traders and gradually lift curbs.
Responding to concerns raised by Karachi Chamber of Commerce and Industry (KCCI) about business hours of small traders, Ghani said the government had taken tough decisions in the wake of the alarming situation of the pandemic. "The curbs were imposed in order to avoid a situation like India during the third wave of coronavirus," he said.
The minister added that daily infections had risen to 2,000 a day after Eid this year and followed the past trend in which 3,000 cases were reported daily in the two weeks that followed Eid in 2020. Ghani reassured that the decision to increase business hours will be taken in a day or two in consultation with traders.
"It is difficult for an elected government to take unpopular decisions," Ghani said. The minister added that the federal government was requested to restrain buses, trains and flights coming to Sindh in view of the increasing number of cases in Punjab and K-P.
"Don't believe the rumours'
Separately, addressing a press conference on the day, Sindh Health Minister Dr Azra Fazal Pechuho urged people not to believe in rumors and get themselves vaccinated against the novel coronavirus.
Pechuho said anti-Covid jabs were mandatory for business communities, management and labourers of factories. She urged traders and the business community to get vaccinated. "If you want longer business hours, getting vaccinated is the only solution," she advised.
With regards to reopening educational instiutions, Pechuho said no decision had been taken on the subject as yet. She added that the inoculations of schools' faculty and staff is a priority.
Published in The Express Tribune, June 4th, 2021.
COMMENTS
Comments are moderated and generally will be posted if they are on-topic and not abusive.
For more information, please see our Comments FAQ